New Students Invited to Take the 'First-Year Service Plunge' August 26
August 17, 2006
August 17, 2006, Greencastle, Ind. - The 639 new students who will arrive on the DePauw University campus this weekend are invited to "take the plunge" as they begin their college careers. On Saturday, August 26, incoming students are invited to take part in the First-Year Service Plunge. Sponsored by Hartman House, the event "opens the door for first-year students to get involved in service at DePauw while also providing the opportunity to learn about the needs and strengths of the Greencastle community," says Jessica Weasner, coordinator of community service and outreach at the University.
The First-Year Service Plunge will take place from 10 a.m. to 1:30 p.m. The student volunteers will go to different agencies in the Greencastle area including: the Putnam County Senior Center, Peace Lutheran School, Putnam County Humane Society, and the Family Youth and Community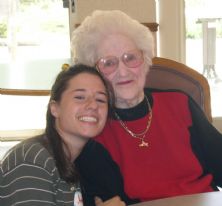 Development Program. They will spend the morning serving and learning about different agencies and the services they offer. Students will then return to the DePauw campus for lunch and a discussion of their experiences, led by experienced DePauw volunteers.
Weasner says that "the Plunge helps first-year students form a bond not only with their fellow classmates, but with this community that will be their home for the next four years."
DePauw's Civic Fellows group will also participate in the Plunge by going door-to-door in neighborhoods around DePauw's campus seeking food and toiletries to benefit the Putnam County Emergency Food Pantry. The collection will take place from 10:30 a.m. until 12:30 p.m.
Students and local residents who'd like to donate items to the Emergency Food Pantry can also drop them off at DePauw's East College Lawn from 10 a.m. to 1 p.m. Items needed include: Canned vegetables or fruits,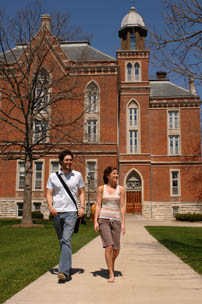 canned tuna or meats, soups, juices, cereals, dry milk, macaroni & cheese, dry potatoes, rice mixes, pasta mixes, cakes mixes, muffin mix, pudding mixes, or condiments. Miscellaneous paper products, toilet paper and office or school supplies will also be collected.
The Hartman House provides opportunities for personal growth and leadership development to DePauw students through service. The August 26 event was planned and coordinated by Hartman House Student Intern and Summer VISTA member Sara Doody.
First-Year Students can register for the event at DePauw's Class of 2010 Web site.
For additional information about the First-Year Service Plunge, contact Jessica Weasner at (765) 658-4870.
Back