"Eagerly Awaited" Film Co-Written by Shibani Bathija '90 Opens Worldwide
August 11, 2006
August 11, 2006, Greencastle, Ind. - Shibani Bathija, a 1990 graduate of DePauw University, is co-writer of the film Kabhi Alvida Naa Kehna (Never Say Goodbye), or KANK, which opens in theaters today. Reuters describes the movie as "an extra-marital potboiler" and says it "is one of the most eagerly awaited releases of the year."
It's been a breakthrough year for Bathija, who also wrote the screenplay for Fanaa, a worlwide hit that premiered in May. Fanaa was the first film written by Bathija, who was an English (composition) major at DePauw and now lives in Mumbai, India. Her new film has been selected for the Toronto Film Festival in September.
Reuters' Krittivas Mukherjee writes, "Bollywood is set to take a big leap this week with the opening of a blockbuster set around marital tensions, a brave departure by an industry known more for showcasing marriage as the heart of Indian family values ... The story begins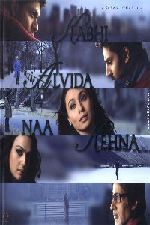 where most traditional Bollywood plots end -- after a couple hold hands and walk happily into the sunset -- and explores what happens to relationships after marriage."
Kabhi Alvida Naa Kehna, which stars Shah Rukh Khan, "is about two seemingly happy couples who meet their soulmates outside marriage, forcing them to look at their relationships from a new perspective," reports Mukherjee, who notes, "critics say it has handled the theme in a refreshingly new manner."
Access the complete article at Yahoo! News. Visit the film's official Web site here.
.Learn more about Shibani Bathija in this previous story.
Back