Prof. Bridget Gourley and 3 Other Women Chemists Receive National Science Foundation Grant
August 22, 2006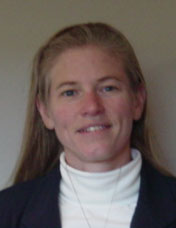 August 22, 2006, Greencastle, Ind. - A team of four women chemists, including Bridget L. Gourley, professor and chair of chemistry and biochemistry at DePauw University, is the recipient of a National Science Foundation grant of $499,864. The three-year, NSF ADVANCE Partnership for Adaptation, Implementation and Dissemination Award (PAID), will support a collaborative research project establishing horizontal mentoring alliances of senior women scientists at liberal arts colleges. Joining Dr. Gourley in the project are: Kerry Karukstis of Harvey Mudd College, Miriam Rossi of Vassar College, and Laura Wright of Furman University.
One major objective of the project is to facilitate the advancement of senior women science faculty members at liberal arts colleges to the highest ranks of academic leadership. Additionally, the project will evaluate effective mentoring mechanisms including cyber connections for women faculty at liberal arts colleges as compared to other types of institutions. Members of the
mentoring alliances will also offer programming on their home campuses to expand the reach of this award.
"The presence of senior women faculty in the highest ranks of academic leadership enables female students to self-identify as potential scientists and engineers, thus having a powerful influence on their choice of career," noted the four professors in their grant proposal. "Yet only 1.8% of faculty members in universities and four-year colleges holding doctorates in the physical sciences are female full professors with 20 years or more experience beyond their doctorate," compared with 26% among men.
"Kerry, Laura, Miriam and I are excited to build on connections we began through a Mellon Cluster award and further facilitate the success of senior women scientists in liberal arts settings," Professor Gourley says. "Our hope is that by working from the top we can impact the largest number of individuals, benefiting not only our colleagues but all of our students as well. The workforce is gradually changing and all students need to be prepared for working in an environment that may not reflect what they expect."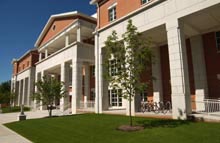 Visit the National Science Foundation online by clicking here.
Gourley, who has served as director of DePauw's Science Research Fellows and Women in Science programs, also served as host site chair for the 2006 national conference of the Council on Undergraduate Research (CUR), which brought more than 550 people to DePauw June 24-27. Details can be found in this previous story.
Back