Prof. Eric Edberg Will Continue Audience Experiments Designed to Combat "Crisis in Classical Music"
September 5, 2006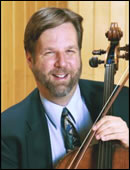 September 5, 2006, Greencastle, Ind. - "I don't think many of us, students or faculty, really get that there is a crisis in classical music," says Eric Edberg, professor of cello at the DePauw University School of Music, who is trying to engage new audiences. Encouraged by the students in his first-year seminar "Creativity, Non-Western Music and the Future of Classical Music", he and pianist Stephanie Gurga '06 (a School of Music fifth-year intern) presented a recital last week that offered the audience an opportunity to enjoy "classical music in jeans." The program of short Romantic pieces invited the audience to clap between and during movements, dance in front of the stage if they felt the urge, and, above all, feel free to enjoy themselves outside of the usual constraints of a classical music performance. Edberg performed wearing a Hawaiian shirt and jeans.
The result? One hundred sixty-six people attended the concert in Thompson Recital Hall, about three times the typical audience for a faculty performance. And yes, the crowd availed itself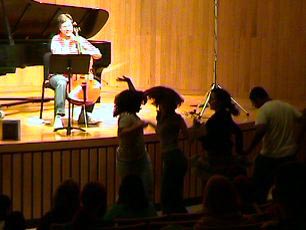 of Edberg's offer of free expression. There was talking, clapping and dancing.
[Download Video: "Video from the Interactive Concert" - 3217kb] 
The professor says, since the August 30 recital, "The overall consensus in the comments on my blog seems to be that the informality and participatory atmosphere worked, at least to a point, but that things got a bit out of hand at times. Some people liked the playing so much that they would have liked more silence," noting that is "nice to hear." He adds, "the more seriously committed, the more deeply in love with music the student I've talked to, the less they liked the audience-participation aspects of the evening. But with colleagues, at least the ones I've encountered, the more concerned they are with the incredibly shrinking audience for classical music, the more enthusiastic they are about the high attendance and the high energy at the concert. And every non-musician in the audience I've heard from simply loved it."
Writing on his blog, Edberg
asserts that classical music, and the fine arts in general, need to examine ways to reconnect with audiences, which have been shrinking. "It's like global warming and the national debt--things are worse than the present effects seem to indicate. Classical music is a catastrophe not waiting to happen, but one already well under way. And it may be beginning to snowball."
He asks, "Are people not coming to concerts because we have too many of them? I don't think so. I think people don't come because they aren't enthusiastic about classical music, and they think it's going to be boring."
An active concert artist who was trained at Peabody, Juilliard, The North Carolina School of the Arts and Florida State, Edberg asserts, "My experiment with this concert was not about a new way to experience music for people who already love classical music the way it is. It was about creating an experience for non-musicians in which they could experience classical music in an interactive way. One in which their aliveness would not be deadened, but enhanced. I always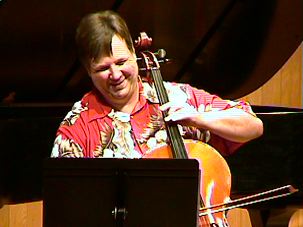 hope that an audience will leave a concert more alive than when they came. As this concert approached, I decided I wanted to remove all the fear, all the inhibition, and let whatever wanted to happen happen. How enlivening can we make it for the audience?"
"The informality drastically reduced the interpersonal distance between performer and audience," wrote Jeremy Anderson, assistant professor of philosophy, in an e-mail to Edberg after attending the recital. "In the usual stuffy setup... I feel less or no personal connection or empathy with the performers, and find that what I mainly expect from them is precision and am disappointed by any lack of it. The whole thing is brittle. [This concert's] informal setup allowed more empathy, making the music more of a shared experience rather than something transmitted from stage to audience. That was pleasant in itself and it heightened my enjoyment of some of the music."
The discussion about Wednesday's recital continues to reverberate almost a week after the final note was played. "Sure, there were times in which the audience participation reminded me of all the carrying on many new college students do: no rules, so let's run wild, let's do it because we can. OK. But really, so what? As the concert went on, there was less and less of that, and I think if we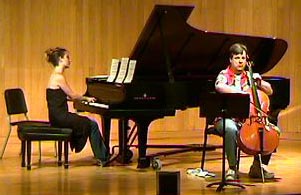 have more events like this a new culture will develop," the professor states.
Eric Edberg says the recital was but an experiment in a laboratory he and his students will continue to work in. "Lots of ideas are being generated in my mind for how to build on this experience. Obviously it's not for everyone, especially those who like things as they are. But there are fewer and fewer of us in that category. Those of us concerned with the future of classical music can't afford the luxury of the status quo."
Read more of Professor Edberg's comments by clicking here. Visit the DePauw School of Music online here.
Back