"Exciting Things" Resulting from New Community Computer Lab Assisted by DePauw's CTEP
October 12, 2006
October 12, 2006, Greencastle, Ind. - "It has only been open since Sept. 8, but the Knoy Resource Center is paying off for the Cloverdale Community School Corp.," reports today's Banner-Graphic of Greencastle. DePauw University's Community Technology Enhancement Program (CTEP) played a key role in the development of the computer lab, which is located at Cloverdale High School. "On Monday, Toni Tomlinson informed the CCSC school board that the center is being used frequently by both students and adults. 'We have had a steady stream of students in since our opening,' Tomlinson said."
The article by Jason Moon reports that Tomlinson, the director of the Knoy Resource Center, "said she planned to take several students to a College Preview Day at DePauw University on Nov. 4 and that students interested in prepping for upcoming SAT tests could utilize the center on Oct. 30 and Nov. 2... She added DePauw's Community Technology Enhancement Program (CTEP) will provide computers to 17 Cloverdale High School seniors at no charge provided the students attend five consecutive Saturday workshops hosted by CTEP. Tomlinson said the students that would receive the computers currently do not have one. She said the computer give-a-way would take place on Dec. 9."
CTEP was established in 2003 to "bridge the digital divide" by refurbishing older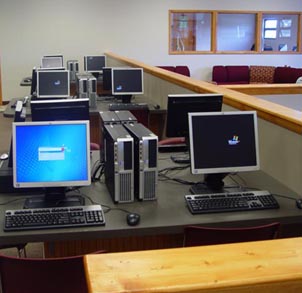 computers and supplying them to those who cannot afford the technology. To date, CTEP has supplied approximately 400 computers to individuals, not-for-profit businesses, organizations, and community centers.
Carrie Milner, the superintendent of Cloverdale schools, states, "We're seeing some pretty exciting things" at Knoy.
The story also notes, "The center came together with the help of several area agencies, including the Cinergy Foundation, DePauw, First National Bank, Indiana Association of United Ways, the Lyon Family Foundation, the Putnam County Community Foundation, Vectren Foundation, Verizon Foundation and Wal-Mart Foundation."
Read more at the newspaper's Web site.
Access an August 23 article on CTEP's association with the Knoy Center here.
Back