Alumni Events to Celebrate Life and Legacy of Pioneering Chemist Percy Julian '20
January 22, 2007
Visit Special Percy Julian Web Page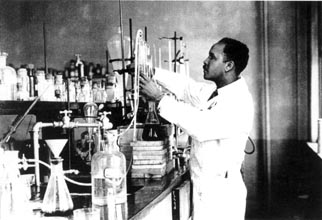 January 22, 2007, Greencastle, Ind. - Alumni of DePauw University and members of the science community will gather this Wednesday, January 24, at the Glendale branch of the Indianapolis-Marion County Public Library, 6101 N. Keystone Avenue, to celebrate the life and contributions of pioneering scientist Percy Lavon Julian. You're invited to attend the event, which is sponsored by the Indianapolis Regional DePauw Alumni Association as well as the National Organization for the Professional Advancement of Black Chemists and Chemical Engineers (NOBCChE) and the American Chemical Society (ACS). A reception begins at 5:30 p.m. with the program starting at 6.
A 1920 graduate of DePauw, Dr. Julian is the subject of a two hour NOVA program that will air nationally February 6. The Indianapolis
event is one of several being staged across the United States to commemorate Dr. Julian's contributions to science through his research, some of which was conducted on the Greencastle campus. Other programs will take place in Washington, D.C., New York City and Chicago.
The Indianapolis event will include remarks by Joseph S. Francisco, Purdue University professor and president of NOBCChE; Beth Lorsbach, chair of the Indianapolis Section of the American Chemical Society; a preview of the PBS program; and audio presentation by Neal B. Abraham, executive vice president of DePauw University; and welcoming remarks by Lisa Bennett '93, vice president of the Alumni Board.
For more information on this and other events, visit the alumni page. To learn more about the NOVA program, click here or read this announcement from the ACS.
Percy Julian is the subject of an essay, "Percy L. Julian: 'Forever Fight To Keep Hope Alive!'," in the January 22 issue of Chemical & Engineering News. "His story cannot but inspire," writes Anne T. O'Brien. "Born in Montgomery, Ala., in 1899, the grandson of slaves and son of a mail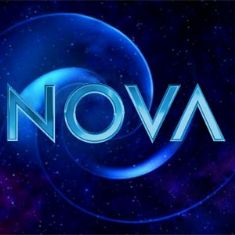 clerk who loved philosophy and mathematics... Julian gained admission as a 'subfreshman' to DePauw University where, for the first time, he shook the hand of a white man. He lived in an attic and earned his way by waiting on tables and digging ditches. Julian graduated with a degree in chemistry, Phi Beta Kappa, first in his class, valedictorian." Read the entire piece by clicking here.
To view an extended clip of the PBS program and to learn more about Dr. Julian's DePauw experiences through text, photos, audio and video, visit this special Web page which has been created to complement the NOVA documentary.
Back