DePauw's Alumni Giving Rate Second to Notre Dame Among Indiana Colleges
February 24, 2007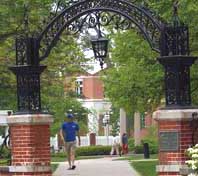 February 24, 2007, Greencastle, Ind. - "The Indiana colleges and universities with the highest alumni participation rates are elite private institutions," notes the Journal and Courier of Lafayette. Citing the Council for Aid to Education's survey of more than 1,000 colleges nationwide, the newspaper notes that "Notre Dame topped the list with 44 percent of its former students giving to the school. The other schools in the top five were: DePauw University (32 percent); Wabash College (31 percent); Rose-Hulman (31 percent); St. Mary's College (29 percent)."
A story in the Indianapolis Star reports the same, adding, "Nationwide, charitable contributions to colleges and universities increased by 9.4 percent."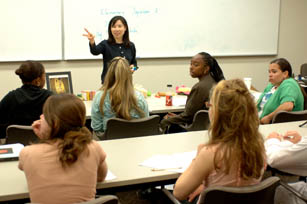 "I am proud that DePauw alumni are recognized as the second most supportive in Indiana," says Lee Wilson '76, national chair of the University's Annual Fund. "The participation rate in our Annual Fund matters because it reflects alumni satisfaction with their undergraduate experience and a desire to give back to the next generation. As a result, the public -- including prospective students -- uses alumni giving participation rates as a measure of quality in universities."
Last year, a record 9,582 alumni supported the Annual Fund for a participation rate of 38%* and this year's goal is 40%. Alumni can make a credit card gift online herebefore the end of DePauw's fiscal year on June 30.
"You can make a difference in the lives of 53% of DePauw students who receive need-based scholarships supported by Annual Fund gifts," declares Wilson. "Every gift is important. We know we can do better and it's time to make Notre Dame start looking over its shoulder at us," he adds with a smile.
(*The Council for Aid to Education uses a different formula than those traditionally used by colleges and publications such as U.S. News & World Report.)
Back