DePauw in Nation's Top Tier and Has 'Programs to Look For' in 2007 US News & World Report Rankings
August 18, 2006
Also: DePauw Rates Highly in 2007 Guide to The Best 361 Colleges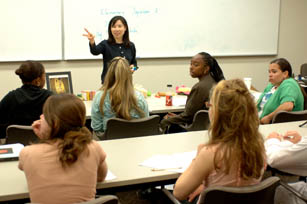 August 18, 2006, Greencastle, Ind. - For the seventh consecutive year, DePauw University is ranked in the top tier of national liberal arts colleges by U.S. News & World Report, and its undergraduate research opportunities are also listed among the nation's best. The magazine's 2007 evaluation of "America's Best Colleges" is being released today. DePauw is ranked 48th -- in a three-way tie for that position with Denison University (Ohio) and Skidmore College (New York) -- and is again the highest-ranked school of its kind in the state of Indiana. Last year's analysis had DePauw in a two-way tie for 49th.
DePauw is cited as a school "with outstanding examples of academic programs that are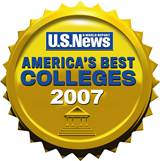 believed to lead to student success." The University's opportunities for undergraduate research and creative projects warrant a mention in U.S. News' "Programs to Look For" section. Selected by a team of college presidents, chief academic officers, and deans of admission, DePauw is one of the select schools where, "independently or in small teams, and mentored by a faculty member, students do intensive and self-directed research or creative work that results in an original scholarly paper or other product that can be formally presented on or off campus."
The U.S. News 2007 report is based on 2005 data and, in some cases, multi-year averages. The publication ranks a total of 215 liberal arts colleges on statistical measures such as student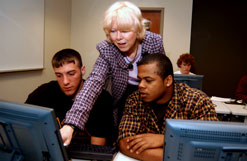 SAT scores, graduation rates, alumni giving and institutional resources, as well as a subjective measure of academic reputation.
DePauw made gains in several key categories. The University is now ranked #36 for the resources it provides its faculty, an increase of 13 positions from last year's survey; its graduation rate climbed four points (79% vs. 75%); 67% of DePauw's classes have fewer than twenty students, a 3% improvement from the year before; its composite SAT/ACT score climbed by ten points; more entering freshmen were in the top ten percent of their high school classes (55% vs. 53%); the University was more selective in admissions, accepting 3% fewer applicants; and DePauw's alumni giving rate improved nine spots (ranked #89 compared to 98 last year).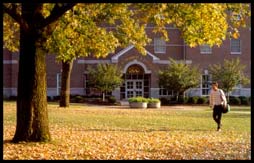 "I can say with confidence that implementation of our strategic plan will continue to improve the quality of what DePauw offers its students and enrich alumni experiences," says DePauw President Robert G. Bottoms. "Our commitment to academic engagement is further strengthening the learning and living environment at DePauw, and our engaged alumni are providing the mechanism for this great institution to reach for even higher levels. With a richly diverse incoming class and our excellent faculty, we have much to celebrate today, yet even more to look forward to."
U.S. News ranks Williams College (Massachusetts) as the #1 national liberal arts college in the 2007 guide, which hits newsstands on Monday. Amherst College (Mass.)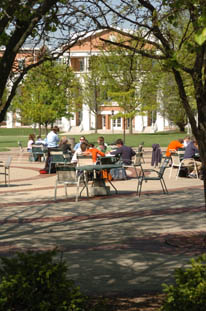 is second.
"Prospective students and their parents tells us that they utilize the U.S. News rankings as they consider colleges, so there is a tremendous upside to being in the top tier," says Stefanie Niles, vice president for admission at DePauw. "It puts DePauw 'on the radar' of students who are looking for an academically challenging liberal arts college. Since the University first appeared in the top tier in 2000, we've seen robust increases in both the numbers and quality of applicants to DePauw. This recognition certainly gets the attention of prospective students while affirming that great things are happening at DePauw."
The top-tier ranking by U.S. News is one of a number of external validations that DePauw has received in recent months. Princeton Review's annual publication, The Best 361 Colleges: 2007 Edition, also gives DePauw high marks for its academics and social scene, as does College Prowler's guide to DePauw University. Historic East College is pictured on the cover of America's Best Value Colleges: 2007 Edition, which lists DePauw University as one of 150 colleges offering excellent academics, generous financial aid packages and relatively low costs. The National Survey of Student Engagement finds that students at DePauw University enjoy significantly more
academic challenges, interactions with faculty, collaborations with others and enriching educational experiences than students at peer institutions and the national average at all colleges and universities. DePauw is also among the "Top 50 Most Unwired College Campuses," a survey of all institutions of higher learning -- big and small -- sponsored by Intel Corporation. DePauw is ranked #30 -- the highest of any liberal arts college in America -- in the report.
Tomorrow, DePauw will welcome 639 new students to campus. Read more about preparations to welcome the Class of 2010 in this story.
Prospective students who would like more information on DePauw University, including access to an online application form, can click here. Alumni who wish to give to the Annual Fund can learn more here.
Back