'Make Cancer Walk the Plank' is Theme of 2007 Relay For Life, April 28-29
February 27, 2007
Relay For Life Registration/Donations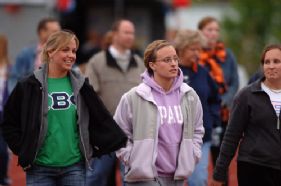 February 27, 2007, Greencastle, Ind. - Putnam County Relay For Life -- a joint fundraising effort between the DePauw and Putnam County communities to benefit the American Cancer Society -- is set for April 28-29, 2007 at Blackstock Stadium. The theme for the 24-hour event this year, "Make Cancer Walk the Plank," was unveiled at today's kick-off breakfast on the DePauw campus.
"Our goals are 200 teams and $250,000," says DePauw senior Kyle Hawkins, who is co-chairing the 2007 Relay. "Right now, we have about 80 [teams]."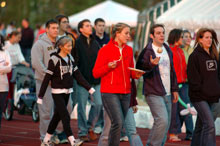 The DePauw-hosted event has consistently won awards for being among the best of its kind among American colleges and universities. Last year's Relay For Life raised approximately $220,000 for the fight against cancer.
It's not often that everyone in this whole county comes together for something," Hawkins tells The DePauw. "I truly believe [Relay for Life] is the only weekend that it happens."

Greg Dillon, associate director of institutional research and New York Posse IX mentor, adds, "I hope that students take away from the event some perspective on how a group of fairly small individual actions can do something powerful that makes a difference."
If you're interested in forming a team, making a donation or have questions about Relay For Life, click here or send an e-mail to relayforlife@depauw.edu. Learn about last year's event by clicking here.
Back