Headed to NCAA Tourney Again, Brad Brownell '91 Achieves a "Coaching Rarity"
March 13, 2007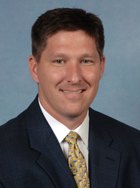 March 13, 2007, Greencastle, Ind. - Brad Brownell, head men's basketball coach at Wright State University and 1991 graduate of DePauw University, "has achieved a coaching rarity, leading two different schools to the NCAA tournament in back-to-back seasons," reports today's edition of Tennessee's Knoxville News Sentinel . Brownell's team, 23-9 on the season, plays Pittsburgh (27-7) in the first round of the tourney Thursday night. He led North Carolina-Wilmington to the "big dance" last year.
Gordon Engelhardt writes that Brownell "credits Jerrill Vandeventer, his coach at Evansville Harrison High School, and Royce Waltman, his coach at DePauw University, for instilling toughness. 'I think I've been around coaches who were pretty demanding,' Brownell said. 'They expect your best effort in all areas. I'm not smart enough to reinvent the wheel.'"
The newspaper notes, "From the first day Brad Brownell arrived at the Wright State University campus last spring, he preached perfection and demanded excellence. After a couple of defections, Brownell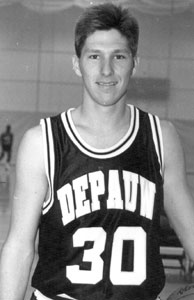 was left with 10 scholarship players from a 13-15 team. He's gotten the best out of those who stayed, guiding the Raiders to their second NCAA Tournament berth in their 20-year Division I history."
"When I got the job, I told everyone we want to do everything at the highest level possible," says Brownell, who will be making his third trip as a coach to the NCAA tournament. As a DePauw junior, he played on the Tiger team that went to the Division III national championship game.
The story points out that Brownell's "UNC-Wilmington teams won Colonial Athletic Association Tournament titles in 2003 and '06 and earned automatic bids to the NCAA Tournament. While the Seahawks won 13 of their last 14 games entering the NCAAs last season, Wright State has won 19 of its last 21 this year."
Read the article in its entirety at the newspaper's Web site. Learn more about Brad Brownell in this previous story.
Back