Alumni Hear from Vernon Jordan '57 and Susan Ansel '82 at Reunion Celebration
June 9, 2007
Also: View Alumni Reunion Weekend Photo Gallery
June 9, 2007, Greencastle, Ind. -

[Download Video: "Vernon E. Jordan Jr. '57" - 5007kb] "We have seen the world and made our contributions to it," Vernon E. Jordan Jr., presidential adviser and civil rights leader, told fellow members of DePauw University's Class of 1957 this morning. "We are not finished. Our work is not done," Jordan declared at the annual Alumni Celebration, which took place in the Performing Arts Center's Kresge Auditorium as part of Alumni Reunion Weeekend.
"With all that we have accomplished, with all the experience and wisdom and smarts, we have a duty and a responsibility to contribute more to DePauw, to America, and to the world," asserted Jordan, adviser to Presidents Clinton and Carter, former president of the National Urban League, and a senior managing director of the Wall Street investment bank Lazard Fréres. "Certainly we will
have to contribute in different ways than we've done in the past, and perhaps the contributions themselves will be entirely different from what we've done before. But DePauw University taught us well long ago to perceive and conceive the boundaries of possibility that need to be crossed."
Vernon Jordan's complete address is available as an MP3 file here, and video is embedded below.

[Download Audio: "Complete Speech - Vernon E. Jordan Jr. '57" - 5451kb].
Using a series of giant flash cards, members of the Class of 1957 displayed their 50th reunion celebration gift to the University, totaling nearly $4.8 million. Eighty-one percent of the class' members participated in DePauw's Annual Fund this year.
In delivering the silver anniversary reunion address, Susan M. Ansel recalled the big stories that dominated headlines around the world and on campus during the
Class of 1982's four years at DePauw. [Download Video: "Susan M. Ansel '82" - 2119kb] "Through a combination of all of these events, our interaction with the DePauw professors, and the outstanding liberal arts education that was afforded to us, we developed into young men and women who were prepared to go forth into the world and make our mark," said Ansel, chief operating officer of Gables Residential, a private real estate investment trust (REIT). "The value of a good liberal arts education is evident in the accomplishments of my classmates ... each making their way in the world, making a difference in the world, and building upon the experiences we gained while we were at DePauw."
Hear Sue Ansel's speech in its entirety here:

[Download Audio: "Complete Speech - Susan M. Ansel '82" - 4402kb].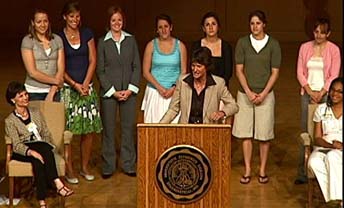 Coach Kris Huffman and members of the national champion DePauw women's basketball team received a rousing welcome from the Celebration crowd.

[Download Video: "An Amazing Journey" - 1730kb] "We've, this past season, traveled 14,000 miles, we've played in 12 different states, we had many hours of practice, we had a little bit of fast food," Huffman said. "We spent holidays together, we laughed together, we cried together. And just think of the memories that these young women have made for themselves, especially the seniors, going out on top.
The coach said to the alumni audience, "To watch you together and the joy in the school spirit has really been fantastic for us to be here."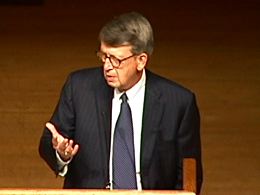 [Download Video: "A Wonderful Opportunity" - 715kb] "I have had a wonderful opportunity to serve here," DePauw President Robert G. Bottoms declared, "and I want to thank all of you for it." Dr. Bottoms, who has led DePauw since 1986, recently announced that he will step down from the presidency next summer and become Chancellor of the University. "The Board [of Trustees] put a lot of confidence in a very young man 21 years ago. It's been a wonderful experience because of you," he told alumni.
As Chancellor, Bottoms will oversee the Janet Prindle Institute for Ethics, where

[Download Video: "Defining One's Core" - 2009kb]
"We will talk about the questions we will cause our students to answer; Plato's ever-timely question, 'How should we live?' And our courses and our symposia and our speakers will be geared to ensuring that in the future DePauw students will not leave this campus without the experience of having defined their core and the things that are most important for their lives."
Approximately two thousand alumni and their spouses are on campus today. Alumni Reunion Weekend 2007 continues through tomorrow. For more information about and a complete schedule of events, including reunion dinners, click here.
Back