'83 Grads Tim F. Meyer and Brian Lee Begin 'Race Across America'
June 12, 2007
June 12, 2007, Greencastle, Ind. - Tim F. Meyer, a 1983 graduate of DePauw University, is "competing in his first Race Across America bike competition this week as part of Team Donate Life - Primo to raise awareness about organ donation," reports today's Arizona Republic. "Thanks to an Arizona donor, Meyer was able to receive a cornea in 2003 to save his vision and his athletic endeavors," writes Timothy Gorman. "The route will take Meyer and his college roommate and Primo teammate, Brian Lee, through Indiana and by their alma mater, DePauw University." (Meyer is pictured top left; Lee is below right)
Gorman notes, "Meyer's team consists of eight riders and 10 crew members, several of whom are from the Valley. Starting at 2 p.m. today, one member of Meyer's Team Primo will be on the bike at all times from Oceanside to Atlantic City, N.J., a distance of 3,043 miles through 16 states. Meyer said they have scheduled their trip for seven days, and his team's drive will take them fast."
"This is the most complicated event I've been a part of and the most exciting," says Meyer, who was a communication major at DePauw. He and Lee are both members of Beta Theta Pi fraternity.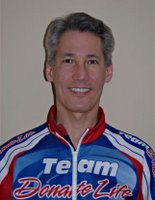 "We are exposed to all kinds of weather and rain 24 hours a day. We travel all the back roads of America . . . It's a wonderful way to see the country."
Meyer adds, "The only reason I can see today is because someone donated on their driver's license. Some beautiful soul in Arizona saved my vision for me."

Read the complete story at the newspaper's Web site. Learn more about Meyer's team and make an online donation by clicking here.
You can also learn about Brian Lee's 1996 mission trip to India, where he performed 40 surgeries in six days.
Back