Surgeon Brian Lee '83 Offers Help and Hope During Two-Week Mission Trip to India
December 27, 1996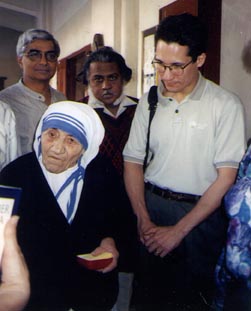 December 27, 1996, Greencastle, Ind. - "It gives you a personal and spiritual rejuvenation," says Brian J. Lee, a plastic surgeon and 1983 DePauw University graduate, of his mission of mercy to Janshedpur, India. Dr. Lee was part of a team of doctors and eight nurses who offered their services to people in the village, which is located west of Calcutta and has a population of 1.2 million people. Before leaving, the team visited with Mother Teresa in her home. (at left: Dr. Lee with Mother Teresa; at top left is Dr. Prasad Mantravadi, whose son, Anand V. Mantravadi, is a junior at DePauw)
For the trip, which was arranged under the auspices of World Partners of the Missionary Church, Lee took two weeks off from his personal practice, left his family behind and personally paid about $2,500 for transportation, expenses and
the medical supplies he carried with him. When Lee arrived in Janshedpur, he found 60 patients waiting for him. He had to prioritize patients depending on who needed surgery the most. (at right: a burn victim who was treated by Dr. Lee)
"If someone was not able to eat due to cleft lips, they were placed very high on the list," he says. "If someone had scars so severe that they prevented him from moving his arm and working, he would be high on the list.
Dr. Lee performed 40 surgeries in six days, mainly on cleft lips, cleft palates and burn scars, which are prevalent. "In Third World countries, [the people] build an open fire to boil water, and children often have to tend the fire,"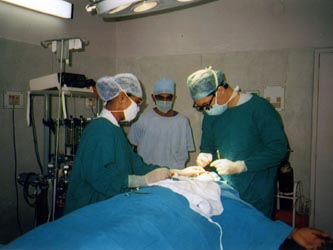 he explains. "Kids get burned frequently, and their burns heal without medical treatment. They often develop severe deforming scars." (photo: Brian Lee, at right, performs surgery on an Indian child with assistance from a local anesthesiologist and srub technician)
Lee became interested in mission trips as a child, and was attracted to DePauw's Winter Term in Service program. In January 1981 he went on a mission trip to Cusatin, Panama, where he educated villagers on how to take care of their immediate health problems and also helped build a one-room school that doubled as a medical facility. In his junior year, Lee went on a similar mission trip to Azpitia, Peru. As a senior, he coordinated all five of DePauw's Winter Term missions as senior project officer.
"The entire DePauw experience shows that there's so much more out there than just books. That's where DePauw excels above and beyond other schools," Lee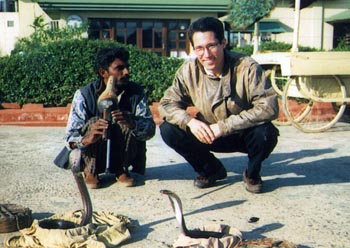 says. "It's a more well-rounded education, and it's what influenced me to continue and proceed in this direction."
Of his team's 45-minute meeting with Mother Teresa, Dr. Lee says, "She has a presence about her that is indescribable ... The magic, the warmth, the calming tranquility let me know that she truly is an instrument of God. I had so many emotions at once, but the prevailing feeling was one of pure joy and happiness."
The surgeon plans another trip to India in January 1998. He says, "The rewards I get from the people I help is far more than what I give to them."
Back