Nationally Syndicated Cartoonist and Artist Rob Harrell '91 Opens First Solo Show
June 13, 2007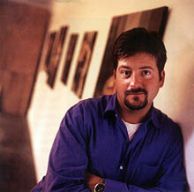 June 13, 2007, Greencastle, Ind. - "Austin [Texas] artist Rob Harrell opened his first solo show Saturday after a battle with eye cancer and almost losing his vision," begins an Associated Press story on the creator of the nationally syndicated Big Top comic strip and 1991 graduate of DePauw University. "For the past year and a half, he's been fighting a rare cancer that threatened his vision. But now thanks to a delicate experimental surgery, his eye and most of his sight has been spared. Since his surgery he says he's done some of the best work of his career, and is excited about presenting it to Austin."
"I've never had a solo show, and it really is just a culmination of what's been going on for the past year and it's great to see it up and have family and friends here,"
Harrell says.
Harrell's work (including Halo in Red, seen at right) is on display at the Wally Workman gallery, located at 1202 West Sixth Street in Austin. A synopsis states, "Rob Harrell's careful use of strong light and decisive brushwork give his work a sense of drama and emotion. His figurative paintings at once evoke a powerful feeling of contemplation and inner strength."
You can see other examples of Harrell's work at the gallery's official site.
Access the article at the Web site of Austin's News 8.
Learn more about Rob Harrell in this previous story and read about his 2004 appearance with Katie Couric on NBC's Today here.
Visit a page devoted to Big Top by clicking here.
Back