Nobel Laureate Ferid Murad '58 Assumes Leadership Roles at Institute of Molecular Medicine
June 22, 2007
June 22, 2007, Greencastle, Ind. - Nobel laureate Ferid Murad, a 1958 graduate of DePauw University, has been named director emeritus of the Brown Foundation Institute of Molecular Medicine for the Prevention of Human Diseases (IMM). Dr. Murad also will be the Texas Nobel Scholar of The University of Texas Health Science Center at Houston, while continuing as director of the IMM's Center for Cell Signaling and director of the health science center's research program in intracellular signaling.

Murad, who received a bachelor's degree in pre-medical science at DePauw, was awarded the 1998 Nobel Prize in Physiology or Medicine, with Robert Furchgott and Louis Ignarro, for their discoveries concerning nitric oxide as a signaling molecule for the cardiovascular system.

"We are very grateful to Dr. Murad for his leadership in the IMM and his continued presence among us as one of the world's most outstanding scientists," said UT Health Science Center President James T. Willerson as he announced the appointments.
The IMM is a research institute established in the early 1990s to investigate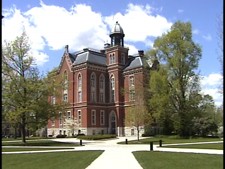 the causes of human diseases at the cellular and molecular levels using DNA and protein technologies to reveal disease mechanisms. It is located in a $120-million, 223,000-square-foot new home, the Fayez S. Sarofim Research Building in Houston's world-famous Texas Medical Center.

Visit the Institute of Molecular Medicine for the Prevention of Human Diseases' Web site.
Dr. Murad received an honorary doctorate from DePauw on May 23, 2004. Video of the presentation is embedded below.
Back