DePauw Community Provides Input on University's Presidential Search Process
July 10, 2007
Also: Visit the Presidential Search Web Site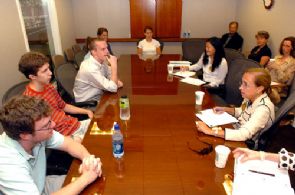 July 10, 2007, Greencastle, Ind. - "As we embark upon the search for DePauw's next president, we seek input from a wide range of people from the University's various constituencies," says Sarah Reese Wallace, the 1976 graduate and Trustee who is chairing the presidential search committee. Wallace and Nancy Mistretta of Russell Reynolds Associates, a global executive search firm headquartered in New York, today held three forums on campus -- one each for students, staff and faculty members. Since arriving on campus yesterday, Wallace and Mistretta have also held meetings with administrators and Greencastle community leaders.
The sessions are designed to solicit suggestions and feedback from the DePauw community on the presidential search process.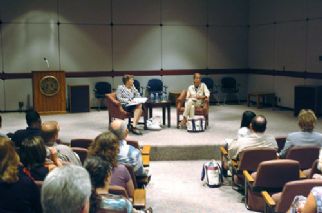 Wallace is leading a committee of 17 individuals, which includes nine other Trustees, four faculty members, two students and one administrator as members.
Robert G. Bottoms, who has served as DePauw's president since 1986, announced in April that he will be stepping down from the post and becoming Chancellor of the University following the 2007-08 academic year.
"We encourage all members of the DePauw family to share their thoughts on the qualifications and traits they believe will be important in the next president, and to offer nominations for the position if they wish to do so," says Wallace. Nominations and inquiries should be received by September 4, 2007. Russell Reynolds Associates is assisting with the recruitment of qualified candidates for the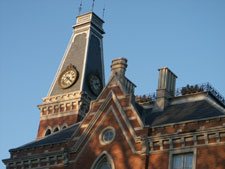 position, and is accepting submissions at DePauwpres@russellreynolds.com.
Another session for faculty members is set for August 17 and there are plans to hold another meeting with undergraduates after all students have returned to campus. Details will follow.
Learn more about the work of the presidential search committee in this previous story, and visit this Web site for updates on the process.
Back