Peeler Center Exhibits 'Beyond Green: Toward a Sustainable Art,' September 14 - December 2
September 11, 2007
Also: Experience '[dNASAb] : // techno_etic' at Peeler Center Through September 23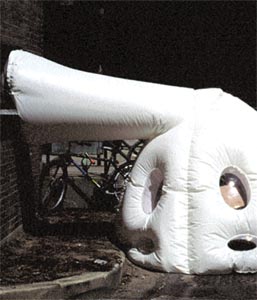 September 11, 2007, Greencastle, Ind. - "Beyond Green: Toward a Sustainable Art," an exhibition exploring the ways that sustainable design philosophy resonates in the work of an emerging generation of international artists, will be on view at the Richard E. Peeler Art Center at DePauw University from September 14 through December 2, 2007. (at left: Michael Rakowitz, paraSITE (Bill S.), 1998, vinyl, nylon, and attachment hardwar; courtesy Lombard-Freid Projects, New York)
Sustainable design has the potential to transform everyday life through an approach that balances environmental, social, and aesthetic concerns. Beyond Green: Toward a Sustainable Art, examines some of the ways in which contemporary artists are exploring a socially and environmentally conscientious -- in other words, sustainable -- way of living and working. This emerging strategy emphasizes the responsible and equitable use of resources and links environmental and social justice. By doing so, it moves past a prior generation of more narrowly eco-centered or "green" approaches to architecture and industrial design. Enacted around the world in large and small ways by architects and designers, as well as, a growing numbers of activists, corporations,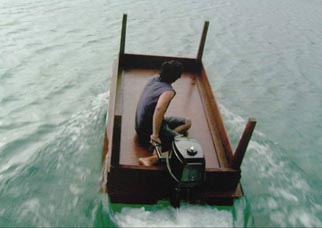 policymakers, Beyond Green ventures in to the fertile new zone of sustainability in the arena of contemporary art. (at right: Allora & Calzadilla, Under Discussion, 2004-05, single channel video projection with sound; courtesy Galerie Chantal Crousel, Paris, and Lisson Gallery, London)
Environmental issues have been addressed in works of art since at least the 1970s, and many of those earlier works might be retrospectively labeled as sustainable art. However, the projects in this exhibition offer a counterpoint to those more established and historical forms. The artists included in Beyond Green all came of age during the late 1980s and 1990s, and their work draws to varying degrees on two key strands of recent art: the productive overlap between art and design, and the development of new modes of critical art practice. Whereas many of their predecessors worked within specific sites or imagined massively-scaled interventions, the artists in Beyond Green draw on the visual languages of design and on new relational, process-based modes of art-making to create portable, human-scaled works of art that emphasize the ways that environmental concerns are inextricably linked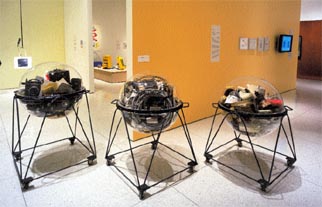 to other social relationships. (left: Dan Peterman, Excerpts from the Universal Lab [travel pod #4, #5, and #6], 2005, assorted materials in plexiglas spheres on wheeled metal supports; courtesy Andrea Rosen Gallery, New York)
By embedding environmental concerns within larger ethical and aesthetic explorations, the projects presented in Beyond Green make use of the discursive power of art in order to engage public and social dimensions of contemporary life, in turn building paths to new forms of practice that go "beyond green."
Participating Artists:
Allora & Calzadilla
Free Soil (Amy Franceschini, Myriel Milicevic, Nis Rømer)
JAM (Jane Palmer and Marianne Fairbanks)
Learning Group (Brett Bloom, Julio Castro, Rikke Luther, and Cecelia Wendt)
Brennan McGaffey with Temporary Services (Brett Bloom, Salem Collo-Julin, Marc Fischer)
Nils Norman
People Powered
Dan Peterman
Marjetica Potrÿ
Michael Rakowitz
Frances Whitehead
Wochen Klausur
Andrea Zittel
Beyond Green: Toward a Sustainable Art is a traveling exhibition co-organized by the Smart Museum of Art, University of Chicago, and by iCI (Independent Curators International), New York, and circulated by iCI. The exhibition is curated by Stephanie Smith. The exhibition and accompanying catalogue are made possible in part by the Smart Family Foundation; the Horace W. Goldsmith Foundation; the Richard H. Driehaus Foundation; and iCI Exhibition Partners Kenneth S. Kuchin, and Gerrit and Sydie Lansing. Additional support is provided by the Arts Planning Council, the Environmental Studies Program, and the Green Campus Initiative, University of Chicago. Its presentation at DePauw University has been generously funded by the Richard D. and Barbara Dixon Harrison Exhibition Fund. (above right: JAM [Jane Palmer and Marianne Fairbanks], Jump Off, 2005, handmade cloth and leather bags with flexible solar panel)
The exhibition is accompanied by an illustrated 160-page book, published by the Smart Museum of Art and iCI and distributed by the University of Chicago Press. It includes a foreword
by Anthony Hirschel, Dana Feitler Director of the Smart Museum of Art, and Judith Olch Richards, executive director of iCI; essays by curator Stephanie Smith and design historian Victor Margolin; interviews and statements from exhibiting artists, and information on each of the artists; and their works.
The galleries at the Richard E. Peeler Art Center are open Tuesday through Friday from 10 a.m. to 4 p.m.; Saturday 11 a.m. - 5 p.m.; and Sunday 1 – 5 p.m., and are closed during University breaks and holidays. For more information, visit the galleries online or send an e-mail.
Back