Desiree Dimond '85 Again Helps 'Give Kids a Smile'
February 6, 2008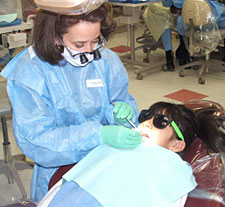 February 6, 2008, Greencastle, Ind. - The volunteer outreach efforts of Desiree Dimond, an Indianapolis dentist and 1985 graduate of DePauw University, are featured in the American Dental Association's ADA News. The article notes how Dr. Dimond and others didn't let the threat of a snowstorm get in the way of the 6th annual "Give Kids a Smile" program at the Indiana University School of Dentistry last week. The dentists spent a day providing free dental care to some 150 underprivileged children.
Stacie Crozier writes, "Dr. Desiree Dimond, a private practice dentist on the southwest side of Indianapolis, and her dental assistant Jennifer Whetstone,
have participated at the dental school event in each of its six years. 'When you saw it was snowing today, you might have thought, 'I don't want to go to work today,' but today it was easy because you wanted to come out and help these kids,' said Dr. Dimond. 'The kids are great -- we get more out of this than they do.'"
Access the story by clicking here.
Learn more about Desiree Dimond and Give Kids a Smile in this previous article.
Back