Prof. Marthe Chandler Publishes Polishing the Chinese Mirror
March 9, 2008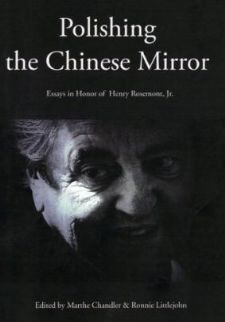 March 9, 2008, Greencastle, Ind. - Marthe A. Chandler, professor of philosophy at DePauw University, is co-editor of Polishing the Chinese Mirror: Essays in Honor of Henry Rosemont, Jr.. A collaboration with Ronnie Littlejohn, the book has been published by Global Scholarly Publications.
The work is described as "a collection of expository and critical essays on the work of Henry Rosemont, Jr., a prominent and influential contemporary philosopher, activist, translator, and educator in the field of Asian and Comparative Philosophy. The essays in this collection take up three major themes in Rosemont's work: his work in Chinese linguistics, his contribution to the theory of human rights, and his interest in East Asian religion. Contributions include works by the leading scholars in Chinese philosophy in the Western world and Rosemont's close associates," including Professor Chandler. (at right: DePauw President Robert G. Bottoms with Marthe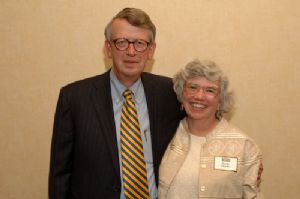 Chandler)
Learn more, and order the text, at Amazon.com.
Professor Chandler was the 2006 recipient of the Mr. and Mrs. Fred C. Tucker Jr. Distinguished Career Award. The honor recognizes the achievements of those faculty members who have made notable contributions to DePauw by their commitments to students, teaching excellence, their chosen disciplines, and University service. Details can be found in this previous story.
Back