Magazine Spotlights Efforts of Kathy Hubbard '74 to Build 'Bridges of Understanding' With the Middle East
April 14, 2008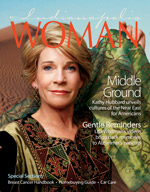 April 14, 2008, Greencastle, Ind. - "Kathryn Fortune Hubbard listens spellbound while the Jordanian woman in her late 30s spins her tale as the bus carries dozens of American and Middle Eastern women 50 miles northward from the modern capital of Amman to the ancient city of Jerash," begins the cover story of this month's Indianapolis Woman. The magazine features Hubbard -- a 1974 graduate of DePauw and member of the University's Board of Trustees -- and her role as founder of Bridges of Understanding, a non-profit, non-political group working to advance understanding between Americans and people in the Arab world.
The article states, "Since Sept. 11, 2001, it's been difficult for many Americans to separate the beliefs and practices of mainstream Muslims from those of fundamentalist terrorists who have declared jihad or holy war on the western world, Hubbard asserts. But through exchanges and an annual conference sponsored by Bridges of Understanding, Americans can better understand the worldview of Arabs like the Jordanian woman, she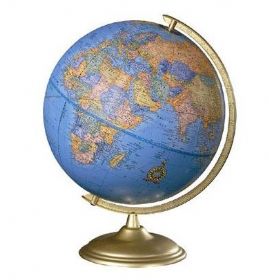 adds. 'The idea of violence and jihadism is nowhere in her vocabulary,' she says."
The magazine notes that Hubbard decided at a young age that traveling the world and learning other cultures were priorities. When it came time for college, she decided "on DePauw University as the place where she would continue her study of French because she wanted to attend a liberal arts school and study overseas. That year abroad was spent in the French-speaking region of Neuchâtel, Switzerland. 'I wanted to be in a location where there weren't many Americans,' she says. 'I did not want to be tempted to speak English. I really wanted to be able to practice my French by speaking French.'"
Hubbard's first job out of college was working for the international division of the Indiana Department of Commerce, and she later served as finance director for U.S. Senator Dan Quayle, Dan Quayle, a 1969 graduate of DePauw, and later as deputy chief of staff to Quayle when he became vice president. Hubbard's other roles include directing the national Council on Competitiveness, being director of development for the Hudson Institute and deputy convention manager at the Republican National Convention.
Kathy Hubbard became fascinated with the Middle East while serving as a U.S. State Department volunteer. "I was partially
interested in the Middle East because that's where we have our greatest challenges. Islam is growing around the world. What we don't want to have growing is an extreme form of Islam." Of her work with Bridges of Understanding, she says, "Out of all this, you would hope one-on-one diplomacy would create a better attitude of understanding. We all in the end have the same aspirations for our lives: We want better lives for ourselves and our kids."
Last year, President George W. Bush appointed Hubbard to serve on the twelve-member J. William Fulbright Foreign Scholarship Board, which oversees the Fulbright Program. In addition to volunteering as a board member at DePauw, "She also devotes time to the Educational CHOICE Charitable Trust, which provides scholarships for underprivileged children to attend private schools in grades K-8, and the American Pianists Association."
Read the entire feature story at the magazine's Web site.
Back