Darlene Montgomery Ryan '76 Among Fort Worth's '14 Brilliant Minds'
April 15, 2008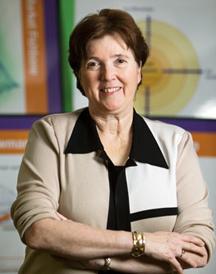 April 15, 2008, Greencastle, Ind. - "I have tremendous respect for people who create companies from nothing," Darlene Montgomery Ryan tells Fort Worth, Texas magazine. "It's really hard work to do that, and I feel blessed to have the opportunity to help so many of them," adds Ryan, who is executive director for TECH Fort Worth and a 1976 graduate of DePauw. A Trustee of the University, Ryan is among "14 Brilliant Minds" featured in the magazine's latest issue.
Gail Bennison writes, "TECH Fort Worth is a nonprofit business incubator that works with technology start-up companies to launch them into the Fort Worth economy. The incubator is a public-private partnership of the University of North Texas Health Science Center, the City of Fort Worth and the Fort Worth business community."
Of her position, Ryan says, "I have the personal reward of helping our community by creating jobs and bringing new technologies to market.
And I get to spend my days with all of these fascinating and brilliant people."
The article notes Darlene Ryan's service to DePauw and her community, and offers praise from Vernon E. Rew Jr., a TECH Fort Worth board member. "She is an outstanding business and community leader who is dedicated to making Fort Worth the home for new technology business. Most importantly, she is meeting with success in that endeavor."
Ryan is the founder of PharmaFab, a pharmaceutical manufacturing company which was recognized as one of the Inc. 500 "Fastest Growing Private Companies." She was also honored as was honored as one of the "Leading Women Entrepreneurs of the World" and the Southwest Area 2003 "Life Sciences Entrepreneur of the Year."
Access the complete feature at the magazine's Web site.
Back