You're Invited to Celebrate Alumni Reunion Weekend, June 11-15
May 2, 2008
Also: Alumni Reunion Weekend Information
May 2, 2008, Greencastle, Ind. - The annual celebration of the DePauw University experience, Alumni Reunion Weekend, is set for June 11-15, and the 2008 event will include new entertainment and activities, remarks by DePauw's incoming president, Brian W. Casey, in addition to the traditional events that have draw more than 2,000 alumni back to campus each year to catch up with classmates and reconnect with their alma mater.
Highlights include the Friday evening all-alumni dinner at Walden Inn & Conference Center. Entertainment will be provided by Forever, a Beatles tribute band. On Saturday, Walden Inn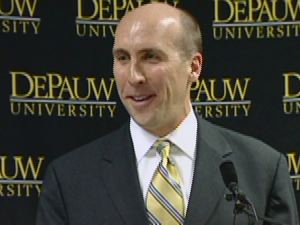 will feature live entertainment and a beer garden.
Saturday morning's traditional Alumni Celebration in Kresge Auditorium will feature the traditional roll call of reunion classes and an address by DePauw's 19th president, Brian W. Casey. The program will also include induction into the Indiana Asbury Society for alumni celebrating 50 or more reunion years, recognition of the golden and silver anniversary classes, and remarks by the Alumni Association president, Lisa Henderson Bennett '93. There also will be a special posthumous tribute to DePauw's former director of alumni relations, J. McRae "Mac" Thorlton '61.
Enjoy a Men of Note performance on Saturday afternoon featuring such songs as How High the Moon, Clap Your Hands, Duke of Earl,
Little Girl Blue, Every Time I Feel the Spirit, Halls of Ivy and Old King Cole. From the 1960s through the 1980s, DePauw's Men of Note distinguished themselves by singing with bass, drums and marimba accompaniment as well as a cappella. The group's founding directors, Frank Jacobs '66 and Dorn Younger '64, will both perform.
Other Alumni Reunion Weekend 2008 events include Alumni College classes, the third annual Community Leadership Awards presentation, an exhibition of alumni artwork in the Richard E. Peeler Art Center, Washington C. DePauw Society Breakfast, "D" Association reception, Saturday afternoon receptions and the traditional Alumni Chapel on Sunday.
This year's event will be even more family friendly. There are plenty of activities for all ages. On Saturday be sure to check out the bounce house on East College lawn, as well as the Camp DPYou option. Children's meals will be available, and there is a special children's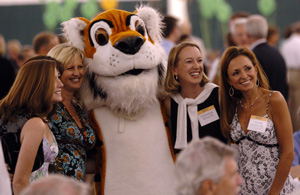 buffet on Friday evening.
Those who register online by May 16 will automatically be entered to win a free stay at the Walden Inn for two people on Thursday, Friday and Saturday nights during Alumni Reunion Weekend. Two rooms will be given away. To get information, go to the Alumni Reunion Weekend homepage and then click on the link to register today. Use your username and password for Alumni e-Services log-in for secure registration. After May 16, alumni are encouraged to call (877) 658-2586 for information on ticket availability.
To view a complete, up-to-date schedule of events for Alumni Reunion Weekend 2008, click here.
Back