Vernon Jordan '57 a "Mentor" to Thurgood Writer George Stevens Jr.
May 5, 2008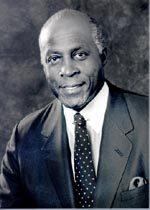 May 5, 2008, Greencastle, Ind. - George Stevens Jr., the author of the new Broadway bioplay Thurgood, discusses the role of the show's co-producer, 1957 DePauw University graduate Vernon Jordan, in Newsweek. "Vernon has been a kind of mentor to me in terms of the black community," says Stevens, "starting with the 1991 miniseries I wrote and directed on the story of Brown v. Board of Education called Separate but Equal, in which Sidney Poitier played Thurgood Marshall. Vernon introduced me to the key people who had worked with Marshall at the NAACP's Legal Defense Fund."
Access the complete interview with Stevens at the magazine's Web site.
Thurgood, a one-man show starring Laurence Fishburne, opened last week at the Booth Theater. The play on the life of the late Supreme Court Justice "is surprisingly absorbing, at times even stirring," opines the New York Times' Charles Isherwood. "For audiences nostalgic for the progressive era in American history in which Marshall played a crucial role,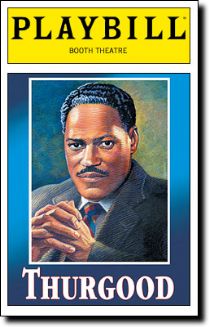 the show may actually feel like a sweet escape to happier times, every bit as cheering (and a whole lot more edifying) than the giddiest of Broadway musicals," he writes. Isherwood concludes that "the heroism of Marshall's life's work and the hard-fought civil-rights victories achieved under his stewardship are truly uplifting. As I left, I found myself misty eyed, recalling a celebrated line from a speech by the Rev. Dr. Martin Luther King Jr. that I have always found moving, in which he cites a belief that 'the arc of the moral universe is long, but it bends toward justice.'"
Learn more about Thurgood in this previous story.
Vernon E. Jordan Jr., senior managing director of Lazard Fréres & Co., is former president of the National Urban League and advised Presidents Clinton and Carter. An advisory member of DePauw's Board of Trustees, Jordan is scheduled to deliver the spring convocation address at the University of Texas at Austin's LBJ School of Public Affairs on May 17.
Back