Three Alumni Nominated for Ohio Valley Regional Emmy Awards
June 4, 2008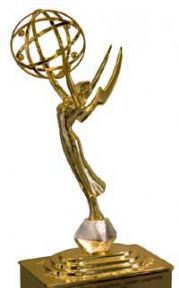 June 4, 2008, Greencastle, Ind. - Three DePauw University graduates -- Susan Dinkel '95, Mandy Levy '05, and Pete Ohs '05 -- are among the nominees for the 44th Annual Ohio Valley Regional Emmy® Awards. Ohs is up for two awards, while Dinkel and Levy are nominated for one each. The winners will be announced August 9 at the Westin Hotel in Cincinnati.
Dinkel, who anchors News 10 at Midday and serves as assistant news director at WTHI-TV in Terre Haute, Indiana, was nominated with chief photographer Mike Latta for their series, "New Day, New Way." The three-part report documented "the 181st fighter wing saying goodbye to its F-16s and hello to their new high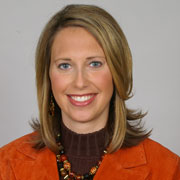 tech missions," according to the station. It is nominated in the "Feature News Report - Series" category.
Ohs, who won two Emmys at the 2007 regional awards presentation, is nominated with his colleague at Blind Squirrels Production Group, Jim Friedman, for "Arnice Smith: Freedom Hero" in the "Education/Schools - Program" division.
Levy and Ohs were named in the "Advanced Media: Public/Current/Community Affairs" category for their political parody music video, "American Rhapsody." Based on the Queen classic, Bohemian Rhapsody, the clip was born of Levy and Ohs' claimed "apathy-turned-passion" about the upcoming presidential election.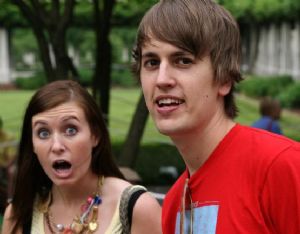 "I actually came up with it while singing in the shower," says Ohs. "It was Wayne's World combined with Barack's 60 Minutes interview. Adds Levy, who majored in English writing, "It might be the best thing I've ever written -- the perfect mix of satire and sincerity."
The duo produced the video under PROJECTMILL, their co-founded, Cincinnati-based creative collective. You can view the video at YouTube.com.
Access a complete list of Emmy nominees by clicking here.
Back