Pete Ohs '05 Wins Two Regional Emmy Awards
June 26, 2007
June 26, 2007, Greencastle, Ind. - Pete Ohs, a 2005 graduate of DePauw University, went home with two statues after last weekend's 43rd Annual Midwestern Regional Emmy® Awards. The event took place Saturday, June 23, at the Hyatt Regency in Columbus, Ohio. Ohs won an Emmy for "Advanced Media-Arts/Entertainment" and was also honored with an award in the category "Human Interest-Program."
The latter entry, entitled "Jean-Robert Cadet: Freedom Hero," was produced in association with Blind Squirrels Production Group, Inc. A one-hour special for the National Underground Railroad Freedom Center, the program profiles a former Haitian slave living in Cincinnati who returns to Haiti every year to fight child slavery.
Ohs' winning entry in the "Advanced Media-Arts/Entertainment" category is a video from his music blog, the Anchor Center.
"It was a really fun night," reports Ohs, who was a computer science major and Information Technology Associate at DePauw. "We had chicken and salmon for dinner. I ate the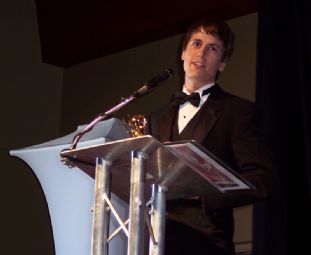 chicken. And they had a salsa band too. Then I won two Emmys. I really can't complain."
The field of nominees for Saturday's Emmy Awards also included Susan Dinkel, a 1995 DePauw graduate, who is a news anchor and assistant news direector at WTHI-TV in Terre Haute, Indiana. She was nominated in the "Religion-Program" category for the documentary, Pilgrimage to Rome: The Path to Sainthood. In October 2006, Dinkel and chief photographer Mike Latta traveled to Rome, chronicling the story of Blessed Mother Theodore Guerin and her recognition as a saint by Pope Benedict XVI in a canonization mass at the Vatican. It marked the first Emmy nomination in WTHI's 53-year history.
A complete list of winners is available online.
Back