Ubben Lecture Series Celebrated in New Video History
June 13, 2008

[Download Video: "The Story of the Ubben Lecture Series" - 56,744kb]
June 13, 2008, Greencastle, Ind. - "I think that DePauw's really got a treasure in the Ubben Lecture Series," Nadia Mitchem '98 declares, noting that it brings "people who seem so untouchable to students" to the Greencastle campus for speeches and student forums. A video celebrating DePauw's Timothy and Sharon Ubben Lecture Series was premiered today at the University's Alumni Reunion Weekend. (at left: Tim and Sharon Ubben with Indianapolis Colts quarterback Peyton Manning, October 26, 2004)
The lecture series was created in 1986 as the result of a gift by Tim and Sharon Williams Ubben, who are celebrating the 50th reunion of their Class of 1958 this weekend.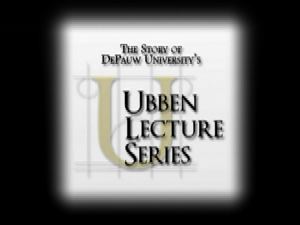 The documentary looks at the highlights of the series which began with a lecture by then-Colorado Governor Richard Lamm, the first of 75 visitors to date. The most recent Ubben Lecture was presented by former British Prime Minister Tony Blair, who visited DePauw on March 3, 2008. It includes clips of a range of speakers, including Margaret Thatcher, Gen. Wesley Clark, Mikhail Gorbachev and Benazir Bhutto. The program examines the impact the Ubben Series has had on the DePauw community, and how it has sometimes drawn national attention to the campus, most notably when Ambassador Paul Bremer made a speech in 2004 shortly after returning from Iraq.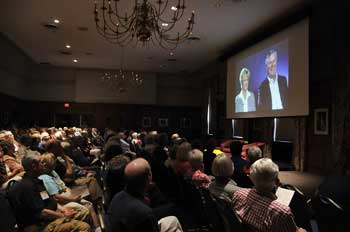 A standing room only crowd filled the ballroom of the Memorial Student Union to see the 28-minute program. The audience greeted the Ubbens -- who came to the platform after the closing credits rolled -- with a standing ovation. After the screening, the couple joined Ken Owen '82, executive director of media relations at DePauw and coordinator of the Ubben Lecture Series, to discuss the guests the program has hosted and behind-the-scenes stories from the past 22 years of visitors, and also took questions from the crowd.
As the video presentation closes, Tim Ubben offers, "Generally speaking, we think we've made a significant impact on DePauw and it's certainly been rewarding for us, too." The program also includes interviews with alumni, faculty and DePauw's eighteenth president, Robert G. Bottoms.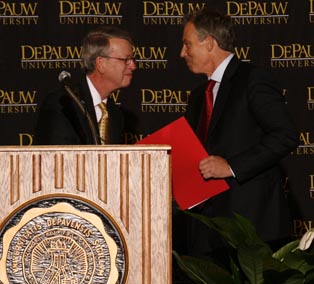 The video was created by Doug Fellegy '05, digital video instructor for the Information Technology Associates Program (ITAP), and his students: Brendan Belz '10, Natalie Hollies '08 and Haley O'Brian '08, with assistance from Holly Bettice '08. Owen narrated the program and he and Chris Wurster '69 helped guide the project.
See the video online here (it is a large file and may take time to download; it's also embedded below in two parts):

[Download Video: "The Story of the Ubben Lecture Series" - 56,744kb]. The piece is also included on the 2008 commencement DVD, which is currently being manufactured and will ship next week.
To view a complete roster of Ubben Lecturers, which includes links to video clips and news stories, click here.
Back