Banner-Graphic Reports on Arrival of Students
August 25, 2008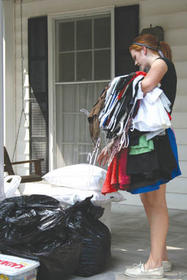 August 25, 2008, Greencastle, Ind. - "DePauw University sophomore Katherine Straus and her mother, Anne, spent Sunday morning hauling Katherine's belongings into the Kappa Alpha Theta sorority house," begins a story in today's Greencastle Banner-Graphic. "'She's probably in there hugging everyone,' Anne said with a smile, dropping a Bed, Beth & Beyond bag on the sorority house porch and heading back to the van to get another load. Katherine, 19, was moving back to campus from her home in Cincinnati. Her sorority sister Jennifer Zgorka, 21, a junior, was coming back to school from Munster." (photo, courtesy Banner-Graphic, shows Straus returning to the Theta house)
Jamie Barrand writes, "DePauw's total enrollment this year stands at just under 2,400 students -- 625 of which are new. Students converged on the campus all weekend, setting up house in their dorm, sorority and fraternity house rooms." The report adds, "Of the 625 new students at the university, 77 are international -- a record for DePauw."
Access the complete article, "Campus comes alive," at the newspaper's Web site.
A summary of Saturday's move-in day and opening convocation -- which includes audio and video clips as well as photos -- can be found here.
Classes for the fall semester begin Wednesday.
Back