DePauw Mourns the Passing of Prof. Emeritus Ed Ypma
November 6, 2008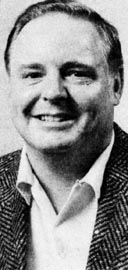 November 6, 2008, Greencastle, Ind. - Edward G. Ypma, professor emeritus of psychology at DePauw University, died at home yesterday following a lengthy illness. A member of the DePauw faculty for 38 years, he was 68 years old.
Ed Ypma was born on September 12, 1940, in Libertyville, Illinois. He earned two degrees from Purdue University (B.S. in psychology, 1963, and an M.S. in industrial psychology, 1965) before joining the DePauw faculty in September 1966. He received a Ph.D. in industrial psychology from Purdue in 1968. He served the University until his retirement in 2004.
Outside of the classroom, Ypma served as the residence director for DePauw-related international programs in Tokyo, Japan; Athens, Greece; and Freiberg, Germany. He was a member of the honorary societies Psi Chi, Alpha Kappa Delta and Sigma Xi. (at right: Raigoro Morisawa '21
with Dr. Ypma in a vintage photograph)
Prior to DePauw, Ed Ypma was a personnel psychologist for Abbott Laboratories, and worked as both a graduate instructor and residence counselor at Purdue.
Survivors include his wife, Ellie Ypma, who retired from DePauw as registrar and associate vice president for academic affairs in May 2008
There will be no services.
Learn more about Dr. Ypma in this previous story.
Back