Tigers Dominate #2 Wabash 36-14 in 115th Monon Bell Classic, Knot All-Time Series
November 15, 2008
Also: Order Your 2008 Monon Bell DVD;

[Download Video: "2008 Monon Memory" - 4105kb];

[Download Video: "Ballad of the Monon Bell - 2007 Version" - 10,419kb]

[Download Audio: "Ballad of the Monon Bell - Stereo" - 2514kb]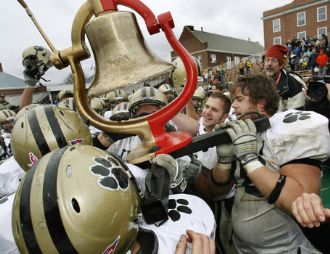 November 15, 2008, Crawfordsville, Ind. - DePauw University stunned the nation's second-ranked NCAA Division III football team, pulling ahead 30-0 en route to a 36-14 triumph in the 115th Monon Bell Classic. The outcome puts the series back where it began in 1890 -- dead even -- with 53 victories for both teams and nine ties. DePauw finishes with its second consecutive 8-2 season, while the playoff-bound Little Giants finish a second season at 9-1 after losing back-to-back battles for the Bell. (top photo: Rob Goebel/Indianapolis Star)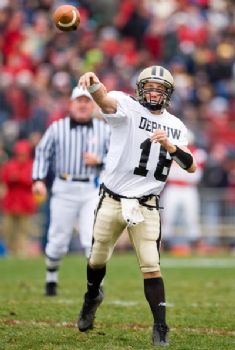 DePauw blocked an early 34-yard field goal attempt by Drew Oehler, then got on the scoreboard first when Jordan Havercamp concluded a 14 play, 66 yard drive with a 25 yard field goal.

[Download Video: "3-0 Tigers" - 1004kb]
After Wabash quarterback Matt Hudson threw the first of four interceptions on the day, DePauw signal caller Spud Dick (pictured at right in photo by Alex Turco '10) threw a 12-yard scoring strike to Chris Gasbarra, and the extra point made it 10-0 for the visitors.

[Download Video: "Dick to Gasbarra" - 1311kb]
Dick completed 24 of 29 passes on the afternoon for 227 yards and a pair of touchdowns.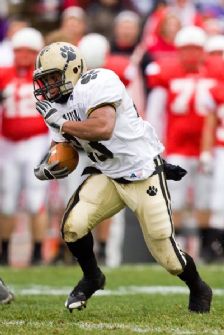 The Tiger mauling continued when freshman running back Jon Ellis (seen at left), who carried the ball 37 times for 100 yards, took it in from one yard out.

[Download Video: "Ellis Takes The Plunge" - 1109kb] Ellis became the first freshman rusher to hit the century mark in the last 20 Monon Bell games.
The DePauw lead ballooned to 23-0 when sophomore Paul Gbur picked off a Hudson pass and took it in for a TD from 32 yards out.

[Download Video: "All The Way" - 1109kb]
The men in black and gold added to their advantage early in the third quarter when Dick found Alex Koors on a 4 yard scoring pass.

[Download Video: "Icing on the Cake" - 1222kb]
The Little Giants, who had coasted to victory in the majority of their games this year, were down but not out. Hudson rambled in from 15 yards out in the third quarter to put Wabash on the scoreboard for the first time.

[Download Video: "Signs of Life" - 916kb]
With 3:03 remaining in the third
quarter, things became more interesting when Wabash's Evan Sobecki scored on a 2 yard run, and the DePauw lead was whittled to 30-14.

[Download Video: "Another Wabash Score" - 1004kb]
DePauw closed out the day's scoring with two more Havercamp field goals from 42 and 28 yards out.

[Download Video: "Havercamp From 42 Yards Away" - 1614kb]

[Download Video: "The Celebration" - 1109kb] "This is about the coolest thing we could have done," Spud Dick told HDNet in a live interview as the game ended. DePauw's all-time leading passer, who is now 2-1 in Monon Bell games, added, "I've give up all the records any day to win one more and go 3-1. This is absolutely amazing to come up here when they're ranked that high and really stick it to 'em."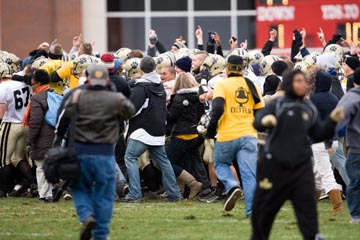 DePauw's record is now 36-33-6 in games played since the Monon Bell was introduced as the winner's prize in 1932.
An announced crowd of more than 11,000 fans watched today's game in person, and the HDNet telecast was available in 10 million households and was viewed at approximately 60 alumni parties held across the nation.
For comprehensive coverage of today's game and on the history of the Monon Bell Classic, visit the Tiger football Web page. Photo galleries of images from today's game can be found here and here.
A special commemorative 2-DVD set of the 2008 Monon Bell Classic is available here. It will include the complete game, as well as "Monon Memories" of every battle for the Bell since 1890, when the rivalry began.
Back