FOX Anchor Brit Hume Endorses Bret Baier '92 as His Replacement
November 3, 2008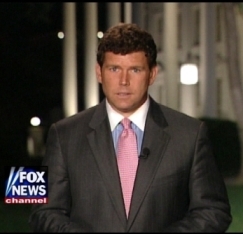 November 3, 2008, Greencastle, Ind. - Veteran journalist Brit Hume is stepping aside from the FOX News Channel anchor desk, reports the Tampa Tribune. "FOX hasn't named a replacement, but Hume has endorsed FOX News Washington correspondent Bret Baier," notes the newspaper. Baier (pictured at left), the network's chief White House correspondent, is a 1992 graduate of DePauw University.
Hume's departure after tomorrow's election "leaves a void at FOX News," writes the Tribune's Walt Belcher. "In coming over from ABC, Hume brought credibility. He is an old-school journalist, part of the generation of TV news anchors who came from newspaper backgrounds."
"I won't be totally gone because I will be back for special reports and commentary from time to time," Hume says. "I might work 100 days a year. But I'm 65; I'm still in good health; and I didn't want to keep working until I was so old that I couldn't do anything."
Read more by clicking here.
Bret Baier majored in political science and English at DePauw. He

began his career as a production assistant at CNN and joined FOX News Channel in 1998. Further details can be found in this recent story.
In September, Baier returned to his alma mater to participate in "DePauw Discourse 2008: America's Role in the World." The newsman moderated a session with Lee Hamilton '52, the former congressman and co-chair of the Iraq Study Group and 9/11 Commission. An article -- including video and audio clips -- can be accessed here.
Back