Dick Tomey '60 Assumes Presidency of American Football Coaches Association
January 14, 2009
January 14, 2009, Greencastle, Ind. — Dick Tomey, head football coach at San Jose State University and 1960 graduate of DePauw University, is the new president of the American Football Coaches Association. Tomey served as AFCA's first vice-president in 2008. He was elected president at the Association's convention, which is taking place this week in Nashville, Tennessee.
The AFCA, founded in 1922 by Amos Alonzo Stagg, John Heisman and others, has more than 10,000 members from all levels of the profession. According to its constitution, the AFCA was formed, in part, to "maintain the highest possible standards in football and the coaching profession," and to "provide a forum for the discussion and study of all matters pertaining to football and coaching."
"This is a thrill because I can remember when I came to the AFCA convention for the very first time," Tomey says. "I rode in the luggage compartment of a station wagon with six other coaches as we headed to New York City for the 1964 convention. When you achieve an honor such as this, all those memories start coming back. To be president of the AFCA
for 2009 is very humbling."
One of the most respected and accomplished men in college football, Dick Tomey enters 2009 in his fifth season as the head coach of the San Jose State Spartans and is credited with resurrecting the university's football program. In Tomey's first four seasons, San Jose State has a 2006 New Mexico Bowl title and 23 wins -- more victories than any four-season span at the SJSU in the last 15 years. The Spartans' 15 wins in their last 20 Spartan Stadium games have translated to an unprecedented 300-plus percent rise in home attendance from 2004 to the present.
Tomey is among a select group of head coaches to reach nine victories in a season at three different NCAA FBS institutions and enters the 2009 season among the top-15 active FBS coaches for bowl victories and post-season winning percentage.
Presently, his 181 career victories, all in the Football Bowl Subdivision, rank fourth among active coaches. Only Joe Paterno, Bobby Bowden and Mack Brown have more wins in FBS/Division I-A games. His overall head coaching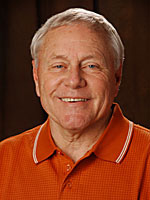 record from his years at San Jose State University (2005-08), the University of Arizona (1987-2000) and the University of Hawaii (1977-86) is 181-135-7. In 28 seasons as a head coach, he has never experienced back-to-back losing seasons. Tomey is the only head coach who ranks in the top-10 for conference coaching victories in both the WAC and the Pacific-10 Conference.
The 2009 season will mark his 46th year coaching football.
An Associated Press story notes Tomey's installation.
Learn more about Dick Tomey in this previous story.
Back