"Energetic" Principal Marcus Robinson '94 Pursues "Lofty Goal"
February 1, 2009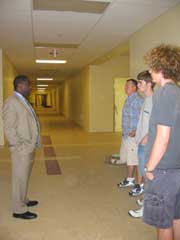 February 1, 2009, Greencastle, Ind. — "We're not just interested in giving them their high school diplomas," Marcus Robinson, chief executive officer and principal of the Charles A. Tindley Accelerated School in Indianapolis and 1994 graduate of DePauw University, tells the Indianapolis Star. "That's easy enough. What we're focused on, first, is getting a kid placed into a selective college and, second, making sure the circumstances are in place so they actually go on to get their college degree. Otherwise, we have failed."
Robinson is described by the Star's Matthew Tulley as "the school's energetic 80-hours-a-week principal ... [As he] walked through his school's hallways, talking fast as he often does about the need to offer more paths to educational success for children who grow up in the city. He pointed to a bare wall and said he wanted to have a mural painted there reading: 'College or Die.' He laughed and said other school employees think such a motto might be pushing it. He seemed to grudgingly agree. Still, he likes the sentiment and believes it sums up the need for America to radically alter its philosophy toward urban education."
"You need to find student failure at any level intolerable," Robinson says.
Tully notes, "The lofty goal at the 5-year-old school, which sits in a former grocery store in one of the city's most troubled areas, is to make sure every graduate leaves with one of those acceptance letters. Actually,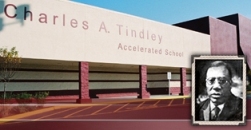 that's more than a goal. It's a mission, one that colors everything the school does." All 12 of the charter school's 2008 graduates went on to college.
Access the complete column at IndyStar.com.
Learn more about the Tindley Accelerated School and its strong ties to DePauw in this previous story.
Back