Susan Anthony's Gothic Frights and Insights
February 2, 2009
Since joining DePauw in 2000, Associate Professor of Communication and Theatre M. Susan Anthony has investigated the dark world of Gothic drama, early 19th century melodramas that were considered to be precursors to the modern monster movie—and just as popular.
Anthony's research on theatre sheds light on a post-revolution public starved for the arts. The anti-British backlash of the war years had left a cultural void that Americans were slow to fill with native works. There remained a sense that British exports, artistic or otherwise, were generally of higher quality than American equivalents. As a result, soon after having won their independence, early American theatergoers looked to Britain as we might to Broadway.
"Actors from Britain, in many cases, had acquired at least a modest reputation abroad and so came here with a celebrity status," explains Anthony.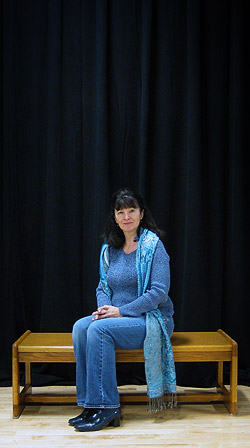 "In addition, newspapers and periodicals of the time suggest that many citizens in the newly formed United States did not promote their own artists for fear of European criticism. For example, an article originally published in the Edinburgh Review commented, 'In the four corners of the globe, who reads an American book? or goes to an American play? or looks at any American picture or statue?'"
Britain's actors soon replaced its soldiers as British plays became hits in cities such as Philadelphia, New York and Charleston. American audiences flocked to see performers from London's Drury Lane and Covent Garden. Foreign actors hoping to rise to stardom in the new country found that Gothic plays were the perfect vehicle.
"Gothic drama was very popular with audiences," says Anthony. "They often offered elaborate spectacle and special effects. They often utilized a famous tragedian in the leading role and emphasized the triumph of virtue over evil-doing. The plays allowed audiences to vicariously enjoy transgression."
The British plays, however, were not entirely free of American influence. Comparing play performances on both sides of the Atlantic reveals a great deal about early American sensibilities. Play titles were frequently changed, and, more telling, so was content. The American version often emphasized that characters with sexual relationships were married, even when this was not part of the original script, and even if the relationship was abusive.
In The Forest of Rosenwald, the hero and heroine are captured by a bandit. The two captives later escape with the help of a woman named Marguerette, who lives with the bandit and has a child by him. In explaining her relationship with him, Marguerette's story varies significantly between the British and American versions. Her lines from the British version read, "By brutal force he made me his; by force detains me here, to witness deeds of horror that harrow up my soul."
Unique to the American script, Marguerette elaborates, "In a wretched hour he dragged me to the unfrequented village church, in whose unpeopled chancel, none but the officials of the ceremony witnessed my vows of duty, uttered in terror of a bandit's threats. Hither he bore me back as his wife and prisoner."
"Evidently, the adapter of the piece believed that American audiences would prefer that Marguerette was married, even if her husband was a murderer," notes Anthony.
On the stage and in the classroom, Anthony has used Gothic plays as windows into early American society, allowing her students to better understand the struggles that women of the era faced.
"Performing in a period piece can help an actor learn more about life in that historical period: the restrictions of dress, the effect of a corset on activity, posture, and for that matter, breathing," explains Anthony. "Performers may be interested in the images of women in these plays and what they suggest about social expectations of the time. In Gothic plays, young heroines are invariably deferential to their father's authority, even at the expense of their own well-being. Wives remain loyal to their husbands even when abused, and female characters who engage in extra-marital relations must be punished, usually by death."
Anthony's interest in using drama as an educational experience led to the creation of a course titled Women and Theatre, which she is currently teaching. Cross-listed in both women's studies and theatre, the course explores the portrayal of women through the history of drama beginning in Greece, where Anthony and Associate Professor of Communication and Theatre Andrew Hayes recently took a Winter Term class.
"We had read Agamemnon as part of the class and we were able to visit Mycenae," says Anthony. "To be at that site, to have an actual association with something thousands of years old that we had only read about was thrilling."
Anthony's recent book, Gothic Plays and American Society, 1794-1830, describes an era of theatre filled with heroes, monsters and the values of a society in turmoil. Read more about it in this previous story.
Back