Hours Before Entertaining President Obama, Duo Will Perform at DePauw
March 13, 2009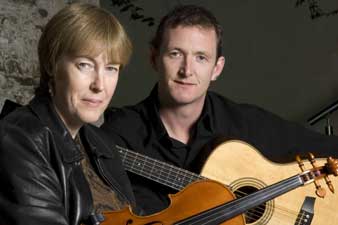 March 13, 2009, Greencastle, Ind. — "Chicago native Liz Carroll and her Irish performance partner John Doyle put in an appearance at the Metropolis Performing Arts Center Monday to warm up for their trip to Washington, D.C., to sing Irish airs for President Obama as part of the White House St. Patrick's Day luncheon the following day," reports the Chicago Daily Herald. The duo will appear at DePauw University Sunday evening in a free concert, which will take place less than 48 hours before they perform for the president.
Access the item at the newspaper's Web site.
North Carolina's Asheville Citizen-Times notes, "John Doyle is a well-known Irish guitar player who has taken up residence in Asheville, but he won't be in town to celebrate this year, as he and his musical partner Liz Carroll are entertaining

President Barack Obama at the annual St. Patrick's Day luncheon at the Capitol Building in Washington. The event is hosted by Speaker of the House Nancy Pelosi and among the guests is the new Taoiseach (Prime Minister) of Ireland, Mr. Brian Cowen. Previous entertainers at the event have included The Chieftains, Frankie Gavin, The Commitments and Ronan Tynan."
Sunday's concert at DePauw begins at 7:30 p.m. in Thompson Recital Hall of the University's Green Center for the Performing Arts (605 South College Avenue). Further details can be found in this article.
Back