Liz Carroll & John Doyle to Perform Traditional Irish Music, March 15
March 2, 2009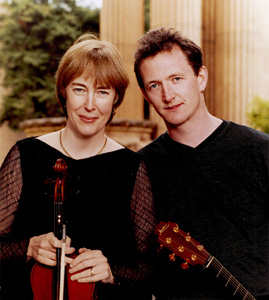 March 2, 2009, Greencastle, Ind. — On Sunday, March 15, DePauw University's Performing Arts Series is pleased to present an evening of traditional Irish music performed by two stalwarts of the traditional music scene, fiddler Liz Carroll and guitarist/singer John Doyle. The concert -- which is presented free of admission charge -- will begin at 7:30 p.m. in Thompson Recital Hall of DePauw's Green Center for the Performing Arts (605 South College Avenue).
Liz Carroll and John Doyle are two of the most well known and highly regarded musicians performing in what is sometimes called the "new traditionalist movement" in Irish music. Both Carroll and Doyle perform dance tunes and songs that are, in some cases, centuries old, but both performers are also composers whose new works honor the style, form and sound of traditional Irish music.
Carroll and Doyle have played music together off and on for nearly a decade, and began performing together more extensively after the 2005 release of their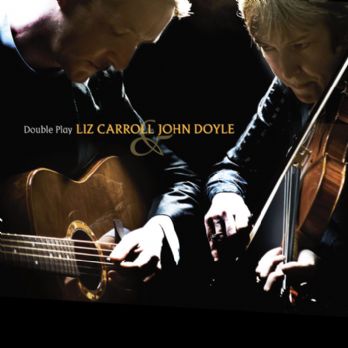 acclaimed first duo album In Play on Compass Records. Four years and many performances and projects later, the duo are releasing a new CD, entitled Double Play, also on Compass Records and scheduled for release tomorrow.
The duo has also been recently been honored by a request to perform for President Obama at a St. Patrick's Day celebration under the dome of the U.S. Capitol in Washington, D.C.
Liz Carroll was born in Chicago to Irish immigrant parents who both played music, early on showing an ear and a gift for old Irish music as she began accumulating prestigious All-Ireland Championships on the fiddle while still a teen. She has gone on to win numerous prizes, including a National Heritage Fellowship Award, and is now an acknowledged master of the Irish fiddle, much in demand for recordings as well as national and international tours. In addition to the CDs with Doyle and numerous solo recordings, Carroll also made two influential recordings as part of Trian, a trio which also included button accordionist Billy McComiskey and guitarist/singer Daithi Sproule.
John Doyle was born in Dublin, Ireland, a city internationally known not only for its strong traditional music enclave but also as a breeding ground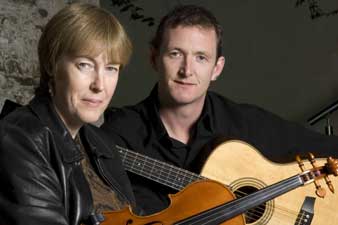 for much new innovative pop and alternative music. While Doyle cites U2 as a source of inspiration, he points to his father, traditional singer Sean Doyle, as probably his greatest influence. As a young man John played in local Dublin groups, and later came to America where he joined forces with a group which included two other young musicians who were to become giant figures in traditional Irish music, fiddler Eileen Ivers and flautist Seamus Egan. Later, around 1995, along with Egan, accordionist John Williams and fiddler Winnie Horan, Doyle co-founded perhaps the most well-known of the second generation of traditional/progressive Irish music "super groups," Solas, with whom he recorded four CDs (including one nominated for a Grammy Award).
Doyle left Solas to pursue a solo career, and since that time he has recorded several solo records and has been in constant demand as a session player on countless other recording projects, including scoring the PBS documentary, Out of Ireland. Named one of the "Top 100 Irish-Americans" for 2008 by Irish America magazine, Doyle is currently splitting time between duet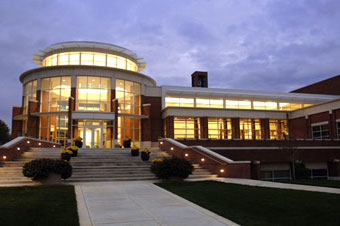 performances with Liz Carroll and serving as musical director and guitarist on the international tour of folk legend Joan Baez.
While the March 15 performance at DePauw University is free and open to the public, seating in Thompson Recital Hall is limited.
For information about this or other DePauw Performing Arts Series events, contact Ron Dye at (765) 658-4689 or at rdye@depauw.edu.
The following links will take you to the Web sites of Liz Carroll and John Doyle.
Back