Ed Garnes '99 an Atlanta Tribune 'Man of Distinction'
March 30, 2009
March 30, 2009, Greencastle, Ind. — Edward M. Garnes Jr., a 1999 graduate of DePauw University, will be recognized as a 2009 "Man of Distinction" by Atlanta Tribune magazine. Garnes will be honored on Thursday, April 23, at a reception at One Georgia Bank, 1180 Peachtree Street N.E.
Garnes is the founder of From Afros to Shelltoes, a grass roots community-based organization focused on cultural productions that bridge generation gaps between youth, elders, and the hip hop community. It focuses on using art as a tool of empowerment.
Katrice L. Mines, editor of Atlanta Tribune, notes, "Good deeds do sometimes go unnoticed. However, the fact remains that some individuals dedicate themselves to making meaningful impressions on their surroundings and in the lives of those around them -- regardless of whether or not their works are noted. And for that, we salute Edward M. Garnes, Jr."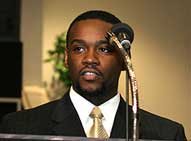 Learn more at the publication's Web site.
Ed Garnes contributed an essay to the 2006 book, Not In My Family: AIDS in the African-American Community. Learn more in this previous story.
Back