DePauw Students Take First Runner-Up Prize at Microsoft's Imagine Cup Finals
May 5, 2009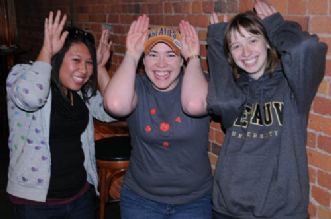 May 5, 2009, Greencastle, Ind. — DePauw University students Erin Donahue and Ashley Myers and their team, "MangoBunnies," were awarded first runner-up prize today in the U.S. finals of Imagine Cup, Microsoft Corp.'s annual global student technology competition. Donahue, a DePauw senior, and Myers, who is a junior, are joined on the MangoBunnies team by Malisa Vongskul, a student at Indiana University - Purdue University at Indianapolis (IUPUI). They win their choice of $4,000 cash or $8,000 towards a National Collegiate Inventor and Innovator's Alliance e-team grant for further development of their project. (top photo, l-r: Vongskul, Donahue and Myers at the competition on Sunday)
The first all-female team to advance to the finals of the competition, MangoBunnies created a software application, called Computer-Assisted Medication Regimen Adherence (CAMRA), to assist HIV/AIDS patients who must undergo complex medication regimens. The software works like an alarm system: a patient can enter his or her medications -- which can number in the dozens -- on a schedule in his or her phone. When the time comes to take the medication, the phone rings or vibrates. It's a simple, yet effective solution to regimen adherence made possible by the ubiquitousness of mobile technology. (at right: Jon Roskill, VP of business & marketing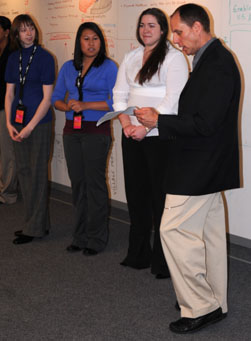 organization at Microsoft Corp., congratulates Team MangoBunnies yesterday on their advancement into the second round of the Imagine Cup 2009 U.S. Finals)
MangoBunnies was one of 15 teams to advance to this year's finals, which took place at the new Microsoft New England Research & Development Center in Cambridge, Massachussetts. The competition began Saturday and concluded today. Winners represent the United States at the Imagine Cup 2009 Worldwide Finals in Cairo, Egypt, in July.
Imagine Cup inspires students to use their creativity to help change the world for the better by discovering new ways to use technology to address real-world issues. This year's theme centers on the United Nations' eight Millennium Development Goals, which outline some of the hardest challenges in the world today, such as fighting hunger and poverty and eradicating AIDS, as well as improving education, maternal health and environmental sustainability.
Learn more in this recent story.
Back