Strong Teach For America Participation Highlighted in Indianapolis Business Journal
June 6, 2009
Also: A Record 19 May Graduates Will Teach For America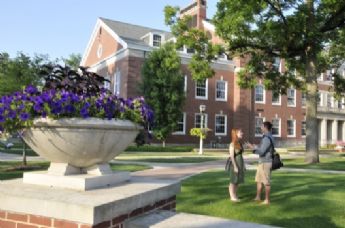 June 6, 2009, Greencastle, Ind. — "At DePauw University in Greencastle, 70 graduating seniors applied to Teach For America," notes a story in this week's Indianapolis Business Journal. "That's more than one in 10 graduates -- one of the highest percentages of any school in the nation."
The piece includes comments from Ian Yearwood (pictured below right), one of the nineteen May 2009 DePauw graduates who have committed to teach in inner-city schools for the next two years, a record high for the University. Yearwood will serve at the Challenge Foundation Academy, a charter school in Indianapolis.


"I just get a lot of joy helping people out, and helping them open new doors that they never knew were there," Yearwood tells the publication, which notes that he "is in the 1 percent of Teach For America participants who majored in education."
Written by J.K. Wall, a 2001 DePauw graduate, the story points out, "National applications to New York-based Teach For America rose 40 percent this year over 2008. In Indiana, applications climbed 20 percent ... It's partly an outgrowth of the recession and stock market crash, which have left one in 10 Hoosiers out of work, decimated retirement portfolios, and thrown college grads into the worst job market in a generation ... But the popularity of teaching also stems from a rise in service-oriented altruism, particularly among young people. That trend showed up in the presidential campaign of Barack Obama, which rode an army of volunteers both young and old to secure the first Democratic presidential win in Indiana in 44 years. It also inspired some to pursue more service work."

You'll find the complete article at IBJ's Web site.
A nationally-distributed announcement last October cited DePauw, Morehouse, Yale, Notre Dame and Harvard as the top schools for Teach For America applicants last year.
Back