Posse Foundation to Honor Tim Ubben '57 for "Sizable Contributions"
October 19, 2006
October 19, 2006, Greencastle, Ind. — Timothy H. Ubben, vice chair of the Posse Foundation's board of directors and 1958 graduate of DePauw University, will be honored along with the Sallie Mae Fund by Posse on October 25 for "their sizable contributions to Posse's endowment campaign. Their gifts have given Posse an endowment totaling more than $10 million," notes an announcement. "Ubben and his wife, Sharon, contributed the largest individual donation to [Posse's endowment] campaign and will announce a further contribution at the Champagne Breakfast. These donations will provide permanent resources that will help secure Posse's longevity and continued growth." (at left: Tim and Sharon Ubben with Indianapolis Colts quarterback Peyton Manning, October 26, 2004)
It points out, "The Posse Foundation identifies, recruits, and trains young leaders from urban public high schools and sends them in teams (referred to as 'Posses') to some of the top colleges and universities in the nation. Its goals are to aggressively address diversity in higher education by improving access and providing opportunities to outstanding student leaders ... Since 1989, over 1500 young people have won more than $142 million in leadership scholarships from Posse's 23 elite college and university partners. Posse Scholars are persisting and graduating at a rate of over 90 percent -- well above the national average. Today Posse recruits students from Boston, Chicago,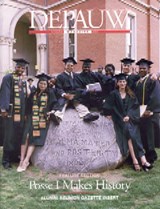 Los Angeles, New York City, and Washington D.C."
Read more by clicking here.
DePauw has partnered with the Posse Foundation since 1996.
Tim Ubben is the retired founder and chairman of Lincoln Capital Management and serves on DePauw's Board of Trustees, which he formerly chaired. He was the founding chairman of Chicago's Posse program.
A 1986 gift by Tim and Sharon Williams Ubben created DePauw University's Ubben Lecture Series, which has welcomed an array of world leaders and acclaimed thinkers, including Margaret Thatcher, Gen. Wesley Clark, Mikhail Gorbachev and Benazir Bhutto.
Back