Vernon Jordan '57 & Former President Clinton Pay Tribute to Civil Rights Pioneer
June 12, 2009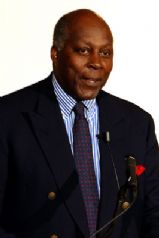 June 12, 2009, Greencastle, Ind. — "To measure the life, work, accomplishments and memory of John Hope Franklin is as if one would take a thimble and try to empty an ocean," Vernon Jordan said yesterday at a ceremony honoring Franklin, the historian and civil rights pioneer. "He was the master of the great American story, the story of Race. John Hope wrote it, he taught it and he lived it."
The tribute, "A Celebration of the Lives of John Hope and Aurelia Whittington Franklin," took place at Duke University, where John Hope Franklin taught. Jordan, former president of the National Urban League and 1957 graduate of DePauw University, called Professor Franklin "a teacher who taught us to believe in the shield of justice and the sword of truth."
Jordan and the former president he advised, Bill Clinton, both spoke at the gathering. Jordan's remarks drew a thunderous round of applause in Duke Chapel, prompting Clinton to open his address by joking, "Vernon, you did everything but pass the plate. There's not much left." (photo, l-r: Former President Bill Clinton chats with Vivian Mildred Corbett Bailey, a childhood friend of John Hope Franklin, as Duke University President Richard H. Brodhead and Vernon Jordan look on. Courtesy: Duke University/Chris Hildreth)
John Hope Franklin, who was awarded the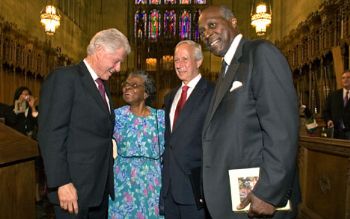 Presidential Medal of Freedom by President Clinton in 1995, died in March at age 94. His wife, Aurelia, passed away in 1999. The celebration took place on what would have been the couple's 69th wedding anniversary.
You'll find stories in the News & Observer of Raleigh-Durham and at Duke's Web site.
On June 4, Vernon Jordan -- who is an advisory member of DePauw's Board of Trustees -- appeared on PBS' Tavis Smiley. A summary which includes video clips can be accessed here.
Back