DePauw to Host National Hispanic Institute's 'Great Lakes Great Debate'
June 16, 2009
June 16, 2009, Greencastle, Ind. — DePauw University will serve as host of the National Hispanic Institute's Great Lakes Great Debate program, June 20-25. The event will involve nearly 100 student participants from Illinois and Washington State, as well as an additional group of high school and college student volunteers who are veterans of previous NHI programs. DePauw's participation in this event is supported again this year by a grant from the Lumina Foundation for Education. The Lumina Foundation for Education is an Indianapolis-based, private foundation dedicated to expanding access and success in education beyond high school.
The program, coordinated by the National Hispanic Institute, the largest Latino youth organization in the nation, is one of 15 programs being held in the United States and Panama this summer, designed for high-performing Latino high school students to develop leadership skills. It is presented as part of NHI's mission to cultivate leadership for the 21st century U.S. Latino community.
NHI, celebrating its 30th anniversary this year, initiated its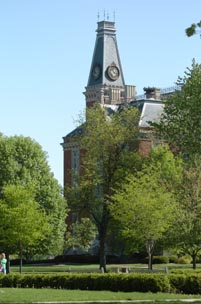 summer programs for high school students in the early 1980s to help students develop the communication and collaboration skills needed to effectively lead in the U.S. Latino community. According to NHI founder and president, Dr. Ernesto Nieto, there is a leadership crisis in the U.S. Latino community, stemming in part from growing U.S. Latino population numbers and a lack of civic engagement among U.S. Latino community members.
Though NHI's primary concern is developing leaders, students who have participated in NHI programs have a remarkable track record with respect to college enrollment. More than 98 percent of NHI participants attend college, with 90 percent graduating in four to five years, and 65 percent continuing into graduate studies.
"The Great Debate program allows students to practice the communications skills needed for success, through debating issues of particular import to Latinos in the United States today," Nieto says. "Since we see the participating students as potential leaders in the U.S. Latino community, our idea of success goes beyond just doing well in college and in professional careers. This program allows students to realize their potential, to understand why they're needed in the Latino community, and to begin fulfilling their promise as leaders."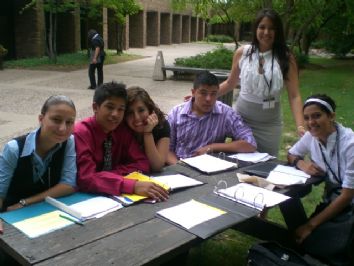 In addition to the Great Debate (formerly known as the Young Leaders Conference), geared toward high school freshmen, NHI offers other leadership programs for high school students, including the Lorenzo de Zavala Youth Legislative Session, which allows high school sophomores and juniors to convene a legislative session to practice the give and take of public policy, and the Collegiate World Series, geared toward high school juniors looking to enter college.
Learn more at NHI's Web site.
DePauw is an annual host of the NHI event.
Back