Dave Jones '84 Eyes California Insurance Commissioner Post
November 16, 2008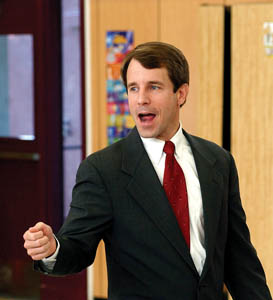 November 16, 2009, Greencastle, Ind. — "The insurance commissioner should be a strong advocate for consumers," says 1984 DePauw University graduate Dave Jones. A Democratic member of the California State Assembly whose term expires in 2010, Jones has announced he will be a candidate for state insurance commissioner. "I think with my background and experience, I would be a very strong advocate," he tells the Sacramento Bee.
"If elected, Jones would oversee the largest consumer protection office in the state, with about 1,200 employees and a $200 million budget," writes Jim Sanders. "The agency regulates auto and homeowner's insurance rates, and enforces laws relating to life, health and other insurance as well."
The story notes, "Jones is perhaps best known in the Assembly for spearheading a successful drive in 2006 to overhaul the conservatorship system serving thousands of California's oldest and neediest residents. Jones also passed a new law cracking down on unauthorized viewing or use of patients' medical records. He pushed unsuccessfully to restrict businesses from storing sensitive consumer payment data and to require state approval before raising health insurance rates."
Darrell Steinberg, a fellow Democrat and president pro tem of the California Senate, says of Jones, "He's a fighter. Dave is very accomplished, very intelligent -- a champion for consumers."
Access the complete text at the Bee's Web site.
Learn more about Dave Jones in this previous story.
Back