Efforts of California Assemblyman Dave Jones '84 to Save Sea Otters Resonate
July 31, 2008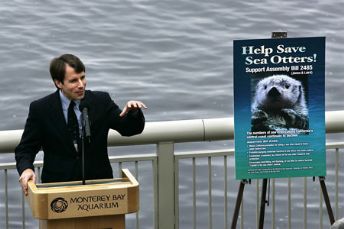 July 31, 2008, Greencastle, Ind. - "The generosity of Californians during tough economic times shows that support for our environment and emblematic animals like the sea otter runs deep in our state," says Dave Jones, a member of the California State Assembly and 1984 graduate of DePauw University. A fund Jones created to save endangered sea otters received $253,350 in voluntary contributions from taxpayers this year and will again appear on next year's state tax return forms.
Jones and another assemblyman co-sponsored legislation, approved in 2006, which provides an option for taxpayers to support efforts to save the struggling southern sea otter. "But the donations must keep flowing, at a rate of a quarter of a million dollars a year, for the fund to stay in operation," reports the Los Angeles Times.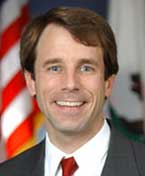 Monies collected are split "between the state Coastal Conservancy and the California Department of Fish and Game for various research projects including those focused on diseases that kill otters and law enforcement actions against fishermen who shoot them."
Read more at the newspaper's Web site.
In October 2007, Dave Jones -- who majored in political science at DePauw -- was the subject of a lengthy Sacramento Bee profile, "Brash idealist at bat: Lawmaker tackles issues, even at risk of striking out." In 2005, Jones was named "Legislator of the Year" by the Consumer Attorneys of California. Learn more in this previous article.
Back