Caleb Beasley '06 to Coach Inner-City Youth in New Football League
July 17, 2009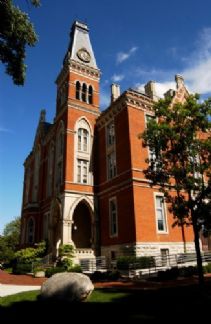 July 17, 2009, Greencastle, Ind. — Caleb Beasley, a 2006 graduate of DePauw University, is serving as a head coach in the new John Frank Football League, reports the Muncie Star Press. An offering of the Muncie Community Schools, the league will provide inner-city fifth and sixth graders opportunities to compete in weekly games, beginning August 22.
The newspaper's Thomas St. Myer notes that Beasley "graduated from DePauw and taught special education [through Teach For America] for two years in St. Louis before he returned to Muncie." He was drawn to the new league by his high school football coach, John Hochstetler, who is organizing the program.
"I played for coach Hochstetler [at Muncie Central] so I'm familiar with the passion he has for football and just the community in general," Beasley tells the newspaper. "I've always enjoyed working with kids and I totally agree with his philosophy that we need to provide for as many as we possibly can in Muncie. The key for me is that the board says every kid that wants to play is going to play. That's the key thing here. We're not turning anyone away. This is a place they can come, play football, be

with their teammates, develop a love for the game and have an experience they otherwise might not."
Read the complete story at the Star Press' Web site.
Back