National Science Foundation Grant Creates Julian Scholarship Program for Area HS Students
August 19, 2009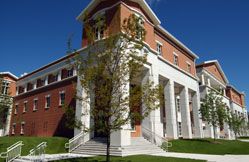 August 19, 2009, Greencastle, Ind. — Local high school science scholars with their sights set on becoming first generation college students will benefit from a new program at DePauw University, made possible by a National Science Foundation grant. NSF has awarded $552,000 to DePauw for support of the Percy Lavon Julian Scholarship program.
Effective now through the end of the 2012-13 school year, DePauw will select Julian Scholars from high schools in rural counties surrounding the University's Greencastle campus (Clay, Hendricks, Montgomery, Morgan, Owen, Parke and Putnam) and from Indianapolis. The scholarships will complete a package of tuition, books, travel, room and board to the University.
Guidelines for selection include: an established
aptitude and interest in science and mathematics, an unweighted GPA of 3.70 and combined mathematics and critical reading SAT scores of 1200 or higher. All students must display significant financial need and have parents who did not complete an undergraduate education themselves.
Percy Julian, a 1920 graduate of DePauw, was a pioneering African-American chemist. His research -- some conducted on campus -- led to the development of a low cost method of producing cortisone, as well as a synthethic drug for the treatment of glaucoma, and the creation of aerofoam, a flame retardant that saved many lives during World War II. A first generation college student who overcame great odds to obtain his education, Dr. Julian's life story was told in a 2007 NOVA special, "Forgotten Genius."
"Percy Julian's story is one that is inspirational to all Americans, but especially to those whose families have never -- because of the barriers they face -- achieved the dream
of a college education," says David Harvey, vice president for academic affairs and professor of chemistry and biochemistry at DePauw. "This grant will make that dream a reality for as many as 24 students over the next four years, providing unique opportunities to local scholars to pursue science at an institution with a strong legacy." (at left: Dr. Julian with former DePauw President Russell J. Humbert)
"Many people don't realize that already more than 20% of DePauw undergraduates are first-generation college students, and this new program promises to create even more opportunities," says Gloria C. Townsend, professor of computer science and coordinator of DePauw's Women in Science program. "To carry on Percy Julian's legacy in such a positive and tangible way is fulfilling and exciting."
Dr. Townsend will coordinate the Julian Scholarship program with Dana A. Dudle, associate professor and chair of biology; Sharon M. Crary, associate professor of chemistry and biochemistry; and Terri L. Bonebright, professor and chair of psychology and University Professor.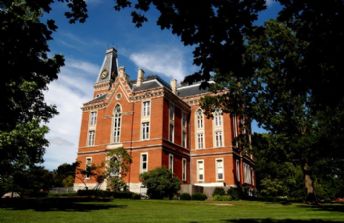 DePauw's science outreach to local high schools includes the existing Bridge 2 Science (B2S) program, which allows area high school students and teachers to spend a week with a DePauw professor and students on a summer research project.
The Julian Scholarships will build on other programs at DePauw, such as the Science Research Fellows, Women in Science, Women in Computer Science and Posse, the latter of which identifies, recruits, and trains student leaders from urban public high schools to form multicultural teams called "posses." DePauw has been a Posse partner since 1996.
Back