DePauw Prepares to Welcome 750 New Students, Including a Record 81 from Other Nations
August 16, 2009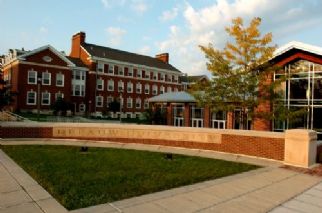 August 16, 2009, Greencastle, Ind. — DePauw University will welcome 750 new students -- one of the largest groups in its 172-year history, including a record 81 international undergraduates -- at its opening day Saturday. The day will begin with members of the entering class moving into their residence halls, assisted by their families and the DePauw faculty and staff. A campus-wide lunch will be served on East College lawn, and the new students will process to the Green Center for the Performing Arts for the traditional opening convocation, featuring remarks by DePauw President Brian W. Casey.
The entering class includes 724 first-year students, fifteen transfers and eleven international exchanges. Seven-hundred-four are enrolled in the College of Liberal Arts; the remaining 46 will study at the DePauw University School of Music, which is celebrating its 125th season this academic year. The
students come from 31 states and 24 countries.
DePauw's largest incoming class was in 1969, when 768 new students enrolled.
"In addition to its sheer numbers, this group is notable for its academic and extracurricular achievement as well as its diversity," according to Christopher Wells, senior adviser to the president and interim vice president for admission and financial aid. He notes that the median collegiate test scores of the incoming class is almost ten points higher than last year's.
Twenty-three percent of the incoming undergraduates are first generation college students -- in other words, no one in their immediate family has graduated from college before -- a 2% increase from a year ago. Thirty-eight percent are Indiana residents, and 20% of the enrolling students have an alumni tie to DePauw.
International students comprise 11% of the total incoming class; 70 are matriculants, while 11 are exchange students. The largest number, 40, come from China. Other countries with multiple incoming students include: Vietnam (7), Japan (6), India (4), and Nigeria, Ghana, Nigeria, Pakistan and Zimbabwe (with two each).
Another 18% of the new students come from historically under-represented populations, so a full 29% of the class will represent this kind of diversity.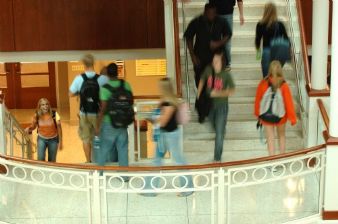 There are 60 Holton Scholars in the Class of 2013, 41 Management Fellows, 30 Honor Scholars, 26 Information Technology Associates, 23 Media Fellows, 21 Posse Scholars, 19 Science Research Fellows, 15 Bonner Scholars and 11 Rector Scholars.
When the admission season ended in May, 776 students had accepted the University's offer of enrollment. "Every college experiences what is called 'summer melt' -- a loss of some students as their plans change," explains Wells. "But we experienced less attrition than we usually do, which is a sign that many of these young students have viewed DePauw as their first and best college choice from the beginning of the search process and are excited about studying here."
Wells notes that while the incoming class is larger, so is its financial need. "It's important to note that the economic environment, and a large decrease in state support for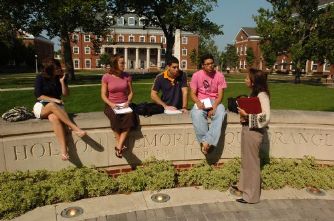 students who are bound for an Indiana college, are having an impact on many of our families. As a result, we are providing more need-based financial aid than in recent years. The gifts of DePauw's loyal alumni and friends have been critical in helping us make the DePauw experience possible for many of our new students."
DePauw University has one of the highest graduation rates among America's institutions of higher education, according to a national report issued in June.
The 2008 National Survey of Student Engagement puts DePauw freshmen and seniors in the top 10% of all colleges and universities for the level of academic challenge they experience. The study also ranks DePauw seniors in the top 10% of all participating institutions nationwide for enjoying enriching educational experiences.

DePauw is among the nation's top 50 liberal arts colleges that combine "outstanding economic value with top-notch education," according to Kiplinger's Personal Finance. The magazine's 2009 "best values" list places DePauw #38 among the nation's liberal arts colleges.
DePauw University also ranks among the top 10 baccalaureate institutions in the nation for the total number of students who studied abroad in 2006-07, according to the 2008 Open Doors report. It is also among the "Top Producers of Fulbright Awards for U.S. Students, 2008-09" according to a chart published in the October 24, 2008 edition of the Chronicle of Higher Education.
Prospective students are invited to visit DePauw's Office of Admission online.
Back