"Glorious Path to Discovery" Begins for 747 New DePauw Students
August 22, 2009

[Download Audio: "President Casey's Complete Address" - 9514kb]
August 22, 2009, Greencastle, Ind. — "You came to a small college, and you were wise to do so, but your world is about to become unbelievably big," DePauw University President Brian W. Casey said this afternoon as he greeted what he called "the great big Class of 2013." A total of 747 students -- one of the largest incoming classes in the college's 172-year history -- arrived on campus today.
Dr. Casey addressed an overflow crowd of students and their families, who had spent the morning and early afternoon moving into their residence halls with the assistance of members of the DePauw faculty and staff. The audience was so large that those who could not find a seat in 1,400-seat Kresge Auditorium viewed the proceedings in the Green Center for the Performing Arts' Moore Theatre and Thompson Recital Hall on a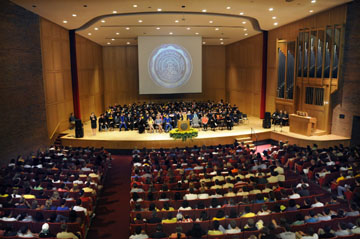 closed-circuit video feed.

[Download Video: "A Rare Moment" - 555kb] "There are rare moments when the familiar past and unknowable future are joined together, side by side," the president noted, "moments when you can look forward at one and remember the other at that same time. This is one of those days."
The incoming group includes 721 first-year students, 15 transfers and 11 international exchange students. They come from 31 states and 24 countries and include 81 international students, the largest total in DePauw's history.
Continuing the tradition initiated last August by President Casey,
members of the new class processed through campus to the Green Center, where they were greeted by cheering members of the DePauw faculty. An added element this year was the presence of two bagpipe players, who led the way through the gate by East College, toward the academic quad, and then toward the auditorium. (Footage of the procession, shot and edited by Ken Owen '82:

[Download Video: "Procession/Convocation Highlights" - 11,312kb]
He thanked parents and guardians for bringing their sons and daughters to DePauw, calling the act of sending a child to college, "an enormous and unbounded act of hope."
Dr. Casey declared,

[Download Video: "Joining the Long Tradition" - 1105kb] "This is an old school, and a good place. Groups of DePauw faculty have welcomed new students to this campus for 173 years. You are at a University that has witnessed two world wars and the Civil War. It echoes with the voices of thousands of students and hundreds of DePauw faculty who have gone before. And it has thrived through those years because it is a committed place, a place of learning and transformation, a place of joy and challenge, a place of virtue."
On a day when most in the auditorium had moved and unpacked boxes of belongings, the president offered, "A lot of what an education is is letting go of the things you don't need -- the things you can now leave behind -- and finding out what new things,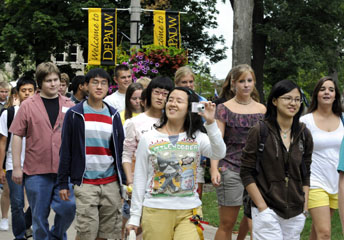 better things, you can put into your boxes and trunks and carry around with you, so you can look at them or draw on them when you need them."
Valuable "stuff," according to Casey, includes books. He told of reading a memoir as he sat on a porch this summer, a book he enjoyed so thoroughly that he literally couldn't put it down until he reached the end. "And, in some small way, the world seemed different that night and I was different that night. And that book will sit on my shelf and will always remind me of that."
The president who came to DePauw from Harvard last summer continued,

[Download Video: "On Books" - 3522kb] "I am telling you this because DePauw can be that book for you, and DePauw can be that porch, the place where you read and think and change, and the place where you can look up at the horizon and think about the world --the world you know now because you're living in it, and the world you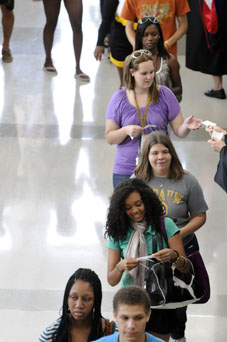 are about to know because you're learning more and more about it. For you, right now, it's the beginning of the day, and you're on a new porch, and you're just about to open the best, most interesting book you can imagine."
The president told the new students that they should be prepared to work hard but he also cautioned them against worrying too much as they traverse "the stunning, glorious path of discovery." It's not unusual for young scholars to concern themselves that "somehow with just one wrong turn, one slightly bad decision, it will all become terribly and permanently bad." According to Casey, "The stakes are high, but not in ways that you think." He urged the new undergraduates to take chances, and learn in the interactive, small classrooms that define the DePauw experience.
"What you are about to do here is gather about you the way of being in the world," Casey said. "So when you do face a moment of doubt and when you do say something less than perfect in front of your friends, you will have the tools and perspectives that will help you move forward. Mistakes are the real stuff you gather in your private boxes and trunks, and someday soon you're going to cherish them.
"So, now, beginning today -- right now -- start making your world as big as you can. Open yourself to any possibility you can imagine. Open up your ears because you never know when you're going to hear something that will present you
with enormous possibilities. Open up your eyes and see something new. Open up your mind. Let the world in and it will always, always surprise you. I am telling you -- promising you -- that life on a campus can always surprise you, can always get bigger."
In concluding his remarks, President Casey stated,

[Download Video: "A Final Welcome" - 759kb] "Have no small thoughts here; have no small dreams. Welcome to DePauw. I can't wait to meet you, to work with you, and see how you are going to change us, and change the world."
Hear Dr. Casey's complete address, which is also downloadable, here:

[Download Audio: "President Casey's Complete Address" - 9514kb]
The Class of 2013 also heard from DePauw's student body president, Nikki Craker '10; Janet Johns '85, president of the DePauw Alumni Association; David Harvey, vice president for academic affairs and professor of chemistry and biochemistry; and the program began with a poem delivered by Joe Heithaus, University Professor and associate professor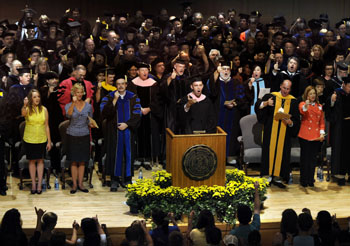 of English, and Sherry J. Mou, associate professor of modern languages (Chinese) and Asian studies. The program concluded with the singing of A Toast to DePauw, led by Gabriel Crouch, assistant professor of music.
Immediately following the program, the new students met with their faculty advisers and parents participated in an information session with members of the DePauw staff. By 6:30 p.m., families said their goodbyes and headed home while the incoming students gathered for a dinner that begins their orientation process. The schedule can be accessed here.
Classes begin Wednesday, August 26.
Learn more about the incoming students in this recent story.
Back