Freakonomics Co-Author Steven Levitt Here for November 30 Ubben Lecture
October 9, 2009
October 9, 2009, Greencastle, Ind. — "If Indiana Jones were an economist, he'd be Steven Levitt," according to the Wall Street Journal. Malcolm Gladwell, author of The Tipping Point, says that Levitt "has the most interesting mind in America." Levitt is the co-author of Freakonomics, a bestseller which has sold more than 4 million copies in 35 languages. On Monday, November 30, he'll come to DePauw University as a guest of the Timothy and Sharon Ubben Lecture Series. Levitt's appearance will come a few weeks after the release of his new book, SuperFreakonomics: Global Cooling, Patriotic Prostitutes, and Why Suicide Bombers Should Buy Life Insurance.
The program will begin at 7:30 p.m. in Kresge Auditorium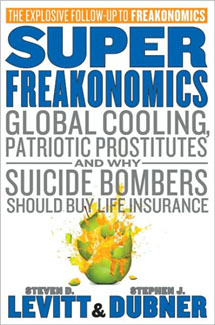 of DePauw's Green Center for the Performing Arts. Like all Ubben Lectures, the program is free and open to all. Seating is general admission and no tickets are required.
A book signing session will follow the speech.
Steven D. Levitt is the William B. Ogden Distinguished Service Professor of Economics at the University of Chicago, where he directs the Becker Center on Chicago Price Theory. In 2004, Levitt was awarded the John Bates Clark Medal, awarded to the most influential economist under the age of 40. In 2006, he was named one of TIME magazine's "100 People Who Shape Our World."
Co-authored with journalist Stephen J. Dubner, Freakonomics: A Rogue Economist Explores the Hidden Side of Everything was a worldwide sensation, examining questions such as "What do school teachers and sumo wrestlers have in common?," "Which is more dangerous: a gun or a swimming pool?," and "How is the Ku Klux Klan like a group of real estate agents?" The book hit the bestseller lists on its first day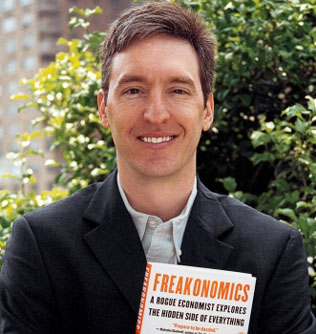 in print and continues to be phenomenally popular.
In their "freakquel," SuperFreakonomics, Levitt and Dubner ask not only the tough questions, but the unexpected ones: What's more dangerous, driving drunk or walking drunk? Why is chemotherapy prescribed so often if it's so ineffective? Can a sex change boost your salary? How is a street prostitute like a department store Santa? Why are doctors so bad at washing their hands? Which adds more value: a pimp or a Realtor? And, can eating kangaroo save the planet?
By examining how people respond to incentives, the Freakonomics books show the world for what it really is -- good, bad, ugly, and, in the final analysis, super freaky.
Steve Levitt received his B.A. from Harvard University in 1989 and his Ph.D. from Massachusetts Institute of Technology in 1994. He has taught at Chicago since 1997. The professor has an enormous curiosity and is set on course by personal experiences and the incongruities he sees in everyday life. He is an intuitionist. He sifts through a pile of data to find a story that no one else has found and devised ways to measure an effect that veteran economists have declared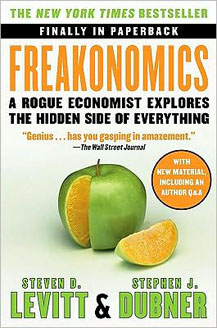 unmeasurable. He has shown other economists just how well their tools can make sense of the real world.
He is also the co-author of the popular New York Times Freakonomics Blog.
The Associated Press calls Levitt "an unconventional economist (who) defies conventional wisdom." Adds Malcolm Gladwell, "Prepare to be dazzled."
Established in 1986 through the generous support of 1958 DePauw graduates Timothy H. and Sharon Williams Ubben, the Ubben Lecture Series was designed to "bring the world to Greencastle" and presents events which are available for students, faculty, staff, alumni and the local community to enjoy. On September 11, 2009, the first-ever Ubben Debate brought Karl Rove and Howard Dean to campus. (below left: Rove, Dean and Professor Bruce Stinebrickner, who moderated the event)
Other previous guests have included Benazir Bhutto, Tony Blair, Mikhail Gorbachev, Shimon Peres, Doris Kearns Goodwin, Spike Lee, Barbara Bush, Ralph Nader, Margaret Thatcher, Ken Burns, Peyton Manning, Mitch Albom, General Colin Powell, Greg Mortenson, Elie Wiesel, Ambassador L. Paul Bremer, Todd Rundgren, Paul Volcker, Ross Perot, General Wesley Clark, Naomi Wolf,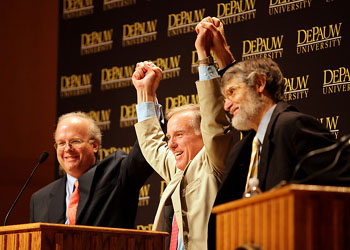 David Plouffe, Frank Warren, Harry Belafonte, Julian Bond, Bill Bradley, E.O. Wilson, Jesse Jackson, David McCullough, Paul Rusesabagina, Jane Pauley, Eric Schlosser, Sister Helen Prejean and Mike Krzyzewski.
To view a complete roster of Ubben Lecturers -- which includes links to video clips and news stories -- click here.
A video retrospective of the Ubben Lecture Series -- produced by DePauw students -- was premiered in June 2008 over Alumni Reunion Weekend. Read about the project, and see the piece, via this article.
Back