The Ashia Project
October 27, 2009
On the return leg of her 2007 spring break trip, senior Tia M. Malcom sat waiting for her connecting flight from Atlanta to Indiana. She started a conversation with the person sitting next to her, a young Cameroonian man on his way to a peace conference at the University of Notre Dame. Malcom, who had always wanted to visit Africa, took advantage of the chance encounter to pepper him with questions about his home country.
"It was my plan when I came to DePauw to travel to Africa, especially with opportunities such as DePauw's Winter Term," Malcom says.
The two continued their conversation by e-mail during the following months. One day, the young man wrote to Malcom that his parents – "Daddy", a doctor, and "Mommy" Ebanja, as they ask their guests to call them – had hosted international visitors previously. If she was interested, they would host her as well. The offer combined many of Malcom's academic and personal interests.
"From the time I was in high school, I knew I wanted to be a doctor," says Malcom, biochemistry major and recipient of a Martha Weddell Nicholson Scholarship, awarded to rising senior female students who plan to pursue a career in science, medical school or other graduate degree in science. "I was interested in HIV/AIDS and wanted to see if I could do anything to help. I'm also a Bonner Scholar, and I do a lot of volunteering along the lines of social injustice. You hear and see things about Africa, but I needed to experience it for myself before I could say I understood what was happening there."
Malcom contacted a traveler from Germany who had stayed with the Ebanjas before and he had only positive things to say about his hosts. Now certain that she wanted to go to Cameroon, she arranged an independent study project to take place during Winter Term 2008.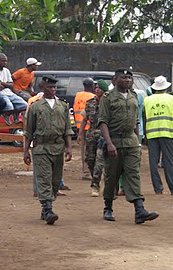 It didn't take long for Malcom to get a taste of life in the African country. Shortly after leaving the airport in Douala, Cameroon's economic capital, she was welcomed by the local police force, a ragtag group of young men with automatic rifles.
"I was riding home with Daddy Ebanja, and we were pulled over by guys with AK-47 rifles strapped over their shoulders," Malcom says. "I had been there for only 20 minutes, and I was already freaking out. Daddy Ebanja eventually offered them enough money, and they released us. Those stops were pretty normal, though. Whenever I rode with Mommy Ebanja, she would just speed through them, and I always thought, what would happen if they just shot at the car? And while I was there, a man was shot and killed after arguing about having to pay money to pass."
In Tiko, the Ebanjas' home, Malcom was able to experience Cameroon in a way that no vacation could have matched. She helped to prepare local cuisine with the family, and she spent time in Dr. Ebanja's clinic, observing and documenting his many patients. In a country where one-fifth of the population lives on less than $1 a day, a nutritious meal is a luxury and modern medicine is even more so. Even though Dr. Ebanja provides service on a pay-what-you-can basis, patients often turned to his services only after their illness had progressed past its initial stages – having first opted for traditional healers who draw upon the culture's deep faith.
"A mother brought in an infant one day who was having a hard time breathing," Malcom says. "He'd been sick for a month and had cuts all over his body from a traditional healer. He was anemic, had parasites, malaria and a bacterial infection. He died the next day. That was hard for me to deal with. I felt so angry because Dr. Ebanja doesn't charge if a person can't afford it, and the child would have been treated had he been brought in sooner."
Dr. Ebanja's ability to provide medical services was further complicated by issues surrounding his clinic. The aged property was poorly equipped to serve as a medical facility, even by Cameroonian standards, and its owners were increasingly pressuring him to find a new location. He had started construction on a new building, but without private donors, his open practice wasn't generating enough money to pay for everything.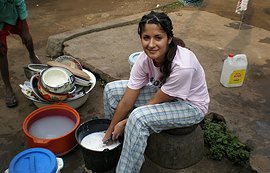 By the end of her visit, Malcom felt guilty about even having the option of leaving. She had been introduced to the Cameroonian word ashia, used frequently by those she'd met in Tiko, but a word without an English equivalent. When we use the word sorry, we often mean, "Sorry, but there's nothing I can do." Ashia means "sorry and," as in "I'm sorry, and I'll help you."
When Malcom returned to DePauw, she began editing the video footage she filmed during her trip, turning it into a short documentary. "I named it The Ashia Project to say, yes, I saw this, and now I'm showing other people to try to help," she says.
As she was piecing together the documentary, Malcom began to think of other ways she might be able to help the Ebanjas. When Ambassadors for Children (AFC) founder Sally Brown visited campus, Malcom approached her to ask for advice. Brown, impressed with Malcom's commitment to the issue, helped make The Ashia Project (TAP) an official chapter of AFC. With AFC's support, Malcom incorporated TAP as a nonprofit, and her goal became to find enough money – $400,000 – to finish the clinic that Dr. Ebanja started.
As the scope of TAP grew, Malcom sought help from others in order to make the fledgling nonprofit look and operate like a respectable organization. She modeled some of her own goals on the experiences of Sharon M. Crary, associate professor of chemistry and biochemistry who has done service work with Lacor Hospital in northern Uganda.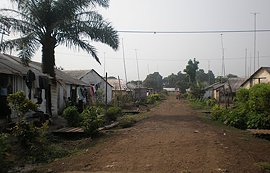 "I found it to be almost overwhelmingly difficult to complete the foundational work necessary to allow U.S. citizens to contribute to improving the healthcare of children in the neediest communities abroad," Crary says. "However, Tia seems to have conquered this obstacle with ease. She jumped at an opportunity that she saw to collaborate with Ambassadors for Children, and she has successfully achieved nonprofit status for her Ashia Project. ... The persistence with which Tia continues to care about and act in support of the people she met in Cameroon is truly remarkable to me."
Senior Carolyn M. Tubekis, a Bonner Scholar and studio art and English writing double major, has helped Malcom with the creation of marketing materials, such as TAP's Web site, brochures, new videos and the organization's logo. During TAP's first on-campus event, held during Old Gold Weekend 2009, parts of the logo were decorated by DePauw students and professors.
"It is exciting for me to see The Ashia Project taking on such an artistic look," Tubekis says. "It's a way I can relate naturally to the cause, and after seeing DePauw students getting really into their logo pieces, I see that artistic expression is a wonderful way to get new people connected as well."
TAP's first major event, planned for spring 2010 in Indianapolis, will officially launch the fundraising efforts for the new clinic. Malcom isn't certain she'll meet the goal she set, but without being asked she has already accomplished a great deal. In fact, the Ebanjas continually insist that she not neglect her studies. But ashia, the word and the project, have become part of who Malcom wants to be.
"I always felt like becoming a doctor was my ultimate goal," she says. "Now I feel like it's just another step toward what I want to do with my life."
Read more about The Ashia Project at its Web site, www.theashiaproject.org.
Back