Jared P. Norman '12
November 3, 2009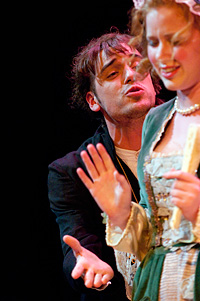 Through music, sophomore Jared P. Norman found a way to bond with and learn from others. Now he's learning how to teach what he loves at DePauw's School of Music.
"Music and art are something people have in common no matter where they're from," Norman says. "You don't necessarily have to understand it to appreciate it. You can hear a song in a different language and not understand exactly what the words are saying, but you can still be moved by it – it can still affect you. Everyone should have a way to connect with other people, whether it's music, theatre, film, art or something else."

Norman grew up in a musical family. His father plays the guitar and banjo, and his mother plays the piano. His older brother is a member of Indiana University's Marching Hundred, and his younger brother performs in a show choir. "It's something that we all understand and appreciate," Norman says. By the time he started looking for a college to attend, he already knew what he wanted to do with his life.
"In middle school, I had a great choir teacher who taught me that teaching music is something that can really impact someone's life," Norman says. "In high school, I had a director who reaffirmed that for me. I knew then that teaching music was what I wanted to do with my life."
With that in mind, Norman didn't want to try to fix something that wasn't broken. His high school was nearly the same size as DePauw, and the kind of familiarity that students have with their professors in DePauw's School of Music reminded him of the relationships he formed with the teachers and directors who mentored him in high school.
"I knew that I wanted to go to a school of music and that I also wanted a lot of attention from the faculty," Norman says. "I didn't want to be another number. When I visited DePauw, I felt like it was a very close community, and that's why I chose to come here. I knew that I'd soon know the other students in the School of Music, as well as the professors and teachers."
At DePauw, Norman hasn't limited himself to just music. In addition to being a member of DePauw Cappella and singing in the Gobin Memorial United Methodist Church choir, he has participated in five theatre productions at DePauw. He most recently starred as the title character in Tartuffe. The 17th-century comedy tells the story of a con man, Tartuffe, who feigns piety to influence a wealthy man into giving up his property.
"My role as Tartuffe was something that I think did really well," Norman says. "He's a lot different than I am. He's manipulative, and there's an agenda behind everything he says. As he's manipulating a man in the play, he's also making advances on the man's wife. Portraying him was a challenge for me at first, but as the production went along I learned how to get out the smarminess of the character. After the performance, there were people who told me, 'I don't ever want to be alone in a room with you' and 'there were times when I just wanted to get up and punch you during the play.' I heard that and thought, well, I did my job!"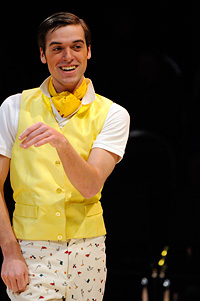 As a member of the Student Arts Council (SAC), Norman is getting a head start on finding creative ways to involve students in theatre. This year, as part of ArtsFest 2009 (Nov. 1-7), the Council is producing Insomniac Theatre, during which participants have 24 hours to write, cast, rehearse and perform a play.
"It's something I'm really excited about," Norman says. "With Insomniac Theatre, we find people who love theatre, but either aren't music or theatre majors, or just don't have the time to put on a production. Being involved in SAC and being able to get art out to the community and the rest of the campus is something I've enjoyed."
Norman has also become involved in areas outside of the arts. He joined the first-year mentor program this year, hoping to duplicate his own experience as a freshman for others, and found new friends in his fraternity, Phi Gamma Delta.
"Greek life was something foreign to me when I came to DePauw, but not being forced to rush right away gave me time to understand the different houses, and I found a place where I felt comfortable. My fraternity gave me the chance to get to know people outside the School of Music and it's great to have that outlet."
"DePauw is the one place that I knew would allow me to do everything that I wanted to do," Norman says. "I can't see myself at any other university."
Back